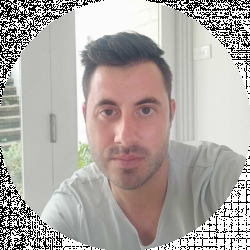 Latest posts by David Borgogni
(see all)
24-inch BMX bikes are suited to taller riders, and they often provide more comfort and stability than 20-inch models. In this guide, I will introduce you to what I think are the best 24 inch BMX bikes you can buy.
Before I review each bike in detail, I'll let you know about the different things you should think about before you buy a new BMX bike. I'll also answer some common questions about 24-inch bikes at the end.
Bottom Line Up Front: In my opinion, the best 24-inch bike you can buy is the SE BIKES SO CAL FLYER 24.
This bike works brilliantly across various BMX disciplines, and its aluminum frame ensures durability and an overall lightweight compared to many other 24-inch models. While this isn't a budget bike, the extra money you pay will land you an excellent 24-inch BMX bike that can withstand most terrain with ease.
At a Glance: Best 24-inch BMX bikes
The best 20-inch BMX bikes you can buy are:
Things to Consider When Choosing a BMX Bike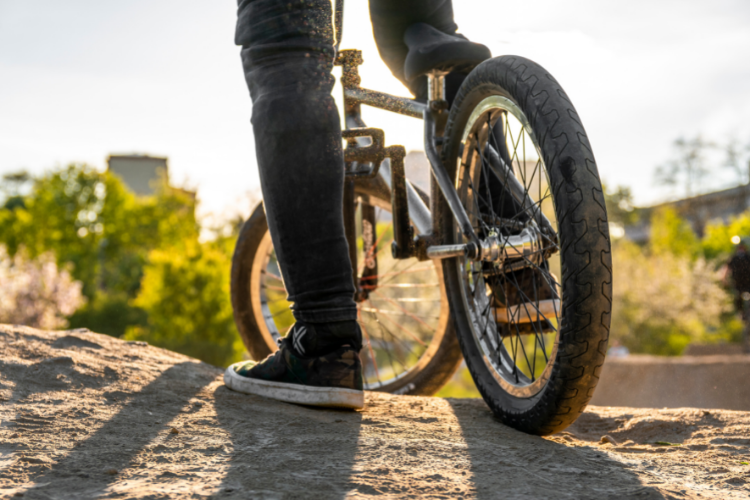 A 24-inch BMX bike is ideal for taller cyclists; however, there are other things to consider aside from the size before you buy one.
Frame Material
The bike's frame is vital to its performance and its overall durability. This is definitely one aspect of a BMX bike you shouldn't ignore. BMX usually comes in one of four materials.
Aluminum
One of the most frequent materials you'll come across when looking for a BMX bike is aluminum, and it offers several advantages over other materials. Aluminum is corrosion resistant which creates a highly durable frame, while it is also known for being lightweight.
Lower-cost BMX bikes and those designed for people on a budget often come with an aluminum frame, a fairly inexpensive material. Aluminum is only suited to certain types of BMX, and if you are dirt jumping on cycling on rough surfaces, it isn't an ideal material for shock and impact absorption.
The Redline Proline 24″, which I have reviewed previously, is made from an aluminum frame.
Carbon Fiber
Another common material you will find BMX bike frames made from is Carbon Fiber, and this is a perfect choice if you want a very lightweight bike.
With a low density, it works great on rugged ground as it absorbs impacts well, while the overall comfort level of the bike is also high. The disadvantage for some people with carbon fiber is its cost, and you only usually find this material on higher-end BMX bikes.
Titanium
Similar to aluminum, Titanium is a highly corrosive resistant material that adds to the durability of your bike. Titanium can work well across many BMX disciplines, and it is one of the easier materials to repair and fix.
However, Titanium is also quite expensive, like carbon fiber, so you won't usually find it on a budget BMX bike.
Steel
Steel is a very popular BMX bike frame material, and even though it has been overtaken by carbon fiber and other materials recently, you will still find it on many fantastic BMX bikes.
Steel does add some weight to your bike as it is heavier, although it is highly durable, and you will find it on many mid-to-high range bikes.
Cost
Before diving in and buying a new BMX bike, you should consider what your budget is.
This will help you look for bikes in your price range and discount any above your budget. There are many great BMX bikes that are very affordable, so don't think you necessarily need to spend upwards of a thousand dollars to get your hand on decent BMX.
One way to reduce the cost of a new bike is to choose a cheaper frame, although this can impact performance and durability.
Discipline
BMX bikes are made for different purposes, so make sure you don't get caught out and purchase a bike that isn't suited to your BMX discipline.
The main types of BMX riding include:
Racing
Freestyle
Dirt jumping
Trail riding
Look for a BMX bike that suits your specifications because a racing BMX bike isn't going to work well for freestyle or casual cycling.
Design
For many people, aesthetics play as important a part as performance when buying a new bike.
While I would always look at the performance of a bike, you may want to look for models that offer a unique design. Style is an important component of BMX culture, and while I would recommend focusing more on how the bike performs and its setup, keeping an eye on the design choices can help you choose a bike that is right for you.
Warranty
You should always look at the warranty as this is vital to ensure you are covered if there is a defect in the bike.
BMX bikes usually come with one (or more) of the following warranties:
Lifetime Warranty
Limited Manufacturer Defects Warranty
Lifetime warranty against defects in materials and workmanship
Limited "crash replacement" warranty
Something to note is that some parts of your bike may be covered under one warranty, while others will be covered under another type of warranty.
For example, pedals and chains may not have a lifetime warranty, but your bike frame often does.
The Major Differences Between 24-inch BMX Bikes and Other Bikes
The size is the obvious major difference between a 24-inch bike and other BMX bikes.
24-inch BMX bikes are suited to taller riders, and many adults prefer this size because it offers more comfort. 24-inch bikes are also better suited to cruising and casual riding than many other sizes, and if you are moving from a mountain bike to a BMX, a 24-inch model will feel less of a significant change.
Also, the larger wheels are more suited to trail riding and cycling on uneven surfaces as they will absorb impacts better and are more equipped to deal with obstacles.
Advantages of 24-inch BMX Bikes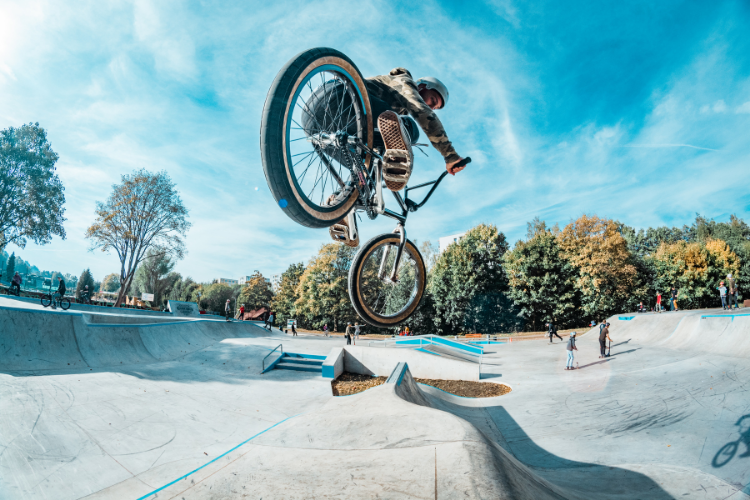 Going for a 24-inch BMX bike has several advantages over other sizes. These plus points include:
Better for taller cyclists – As the 24-inch BMX is one of the larger sizes of this type of bike, it will suit taller riders who find a 24-inch BMX too constrictive and uncomfortable.
Commuting – While BMX bikes aren't the greatest type of bike for commuting purposes, a 24-inch bike is a good choice due to its larger wheels, comfort, more ergonomically-friendly design.
Trail riding – 24-inch BMX bikes can absorb impacts and bumps better than smaller bikes, and this makes them ideal for cycling on the trail, where you will come across a lot of uneven terrains.
Stability – The larger size means that a 24-inch bike is more stable, and you can often get better control with this bike type.
Better for transitioning from other bikes – If you have mainly ridden on a mountain bike and want to change to a BMX, the 24-inch bikes are less of a shock as they are closer to a mountain bike design.
The Disadvantages of 24-inch BMX Bikes
Although 24-inch bikes suit a lot of people, there are some downsides to choosing a bike of this size.
Lack of choice – 20-inch BMX bikes are the standard size, and if you compare the options available between 20-inch and 24-inch, there are far more 20-inch bikes on the market.
Middle ground bike – While there is nothing wrong with being a middle-of-the-road option, 24-inch bikes aren't as good for pulling as 20-inch, and they don't offer the same shock absorption as a 26-inch bike.
Low resale value – As most BMXers opt for a 20-inch bike, selling a 24-inch model can be difficult if you want to upgrade in the future.
Selection Criteria
While the 24-inch market isn't as big as some other sizes of BMX bikes, I want to ensure only the best made it onto my list. To do this, I used some criteria, which included:
Different disciplines – I have included 24-inch BMX bikes for different purposes, for example, racing, freestyling, and casual riding.
Cost – None of the 24-inch BMX bikes I have included are massively expensive, but I have added a range of bikes from budget options to more pricey, higher-end models.
Design – I ensured that the 24-inch BMX bikes on my list all have an aesthetic appeal; you won't find any ugly or unattractive bikes here!
Durability – While some of the bikes on my list will be more durable than others, I only included bikes that have a good level of durability and can absorb impacts and shocks when cycling.
My Top Recommendations for 24-inch BMX Bikes in 2022
SE BIKES SO CAL FLYER 24 – Best overall 24-inch Bike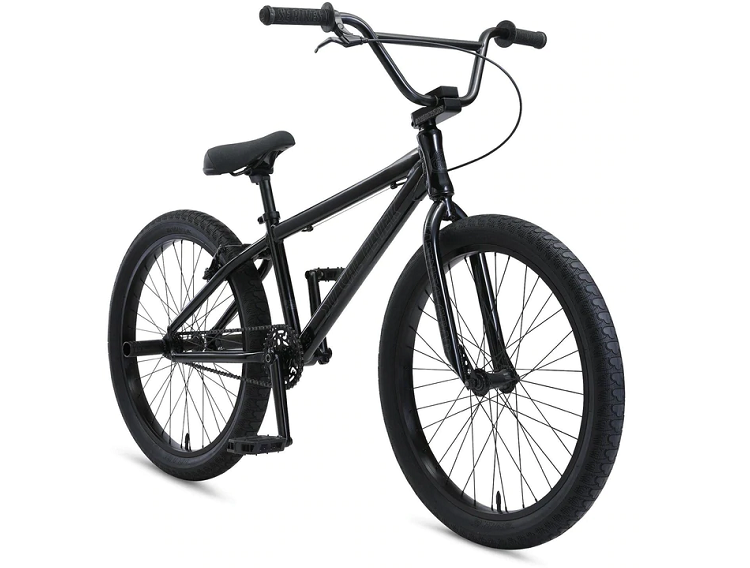 My number one pick for the best 24-inch bike is the SE BIKES SO CAL FLYER 24, and I have included this at the top of my list for several reasons.
This is a fantastic all-rounder (although it isn't suited for racing), but if you are freestyling or cruising, it has to look past this multi-discipline BMX bike.
One thing that will appeal to many people is the frame's quirky design choices. There are four options with this bike:
Stealth mode black
Orange
Yellow camo
Blue camo
If aesthetics are important, this BMX bike is a great choice.
However, it performs admirably too. The bike has a 6061 aluminum frame which keeps the weight low and durability high. This does add to the cost a bit, and the SE BIKES SO CAL FLYER 24 isn't a budget option. Some other solid features of this bike include the double-wall rims and SE nylon fiber pedals.
If you are looking for an excellent 24-inch BMX bike that can be used for various types of BMX riding, the SE BIKES SO CAL FLYER 24 should be one of the first bikes you consider.
Pros
Great all-rounder 24-inch BMX bikes
Available in four unique styles
The solid aluminum frame adds durability
Great construction and offers a high level of comfort
Cons
This won't suit anyone on a tight budget
Jet Gladiator 24″ – Best for Street Riding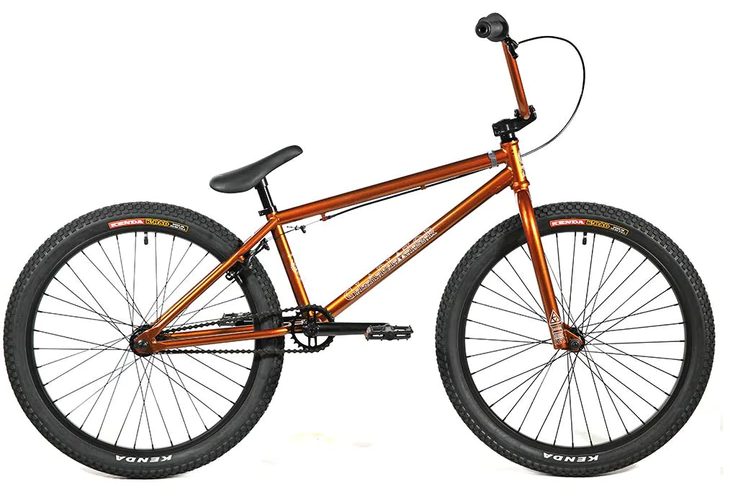 For purely street riding, my choice is the Jet Gladiator 24″.
This bike is competitively priced, and while it isn't the cheapest, it would suit anyone with a few hundred dollars to spare on a quality 24-inch BMX.
The design has a classic cruiser aesthetic, and you can choose between gloss black and gloss metallic copper if you want something a bit different. The frame is made from high tensile steel, which provides a good level of durability; although this adds a bit of weight to the bike, it isn't too noticeable when cycling.
The Jet Gladiator 24″ is highly versatile, and it can cope with many different forms of BMX, including dirt jumping and pulling off tricks. Even though it is predominately a street bike, and I think it excels, it doubles up for different disciplines.
There is a bit of assembly required with this bike, and if you haven't done this before, you may find it a bit tricky or need to pay extra money to have someone put it together. However, this is an ideal 24-inch bike for street riding for the price.
Pros
Ideal street riding bike
It can be used for dirt jumping and freestyle
Durable steel frame
Available in two styles
Cons
Assembly can be tricky with this bike
Hiland BMX Bike – Best Entry-Level Bike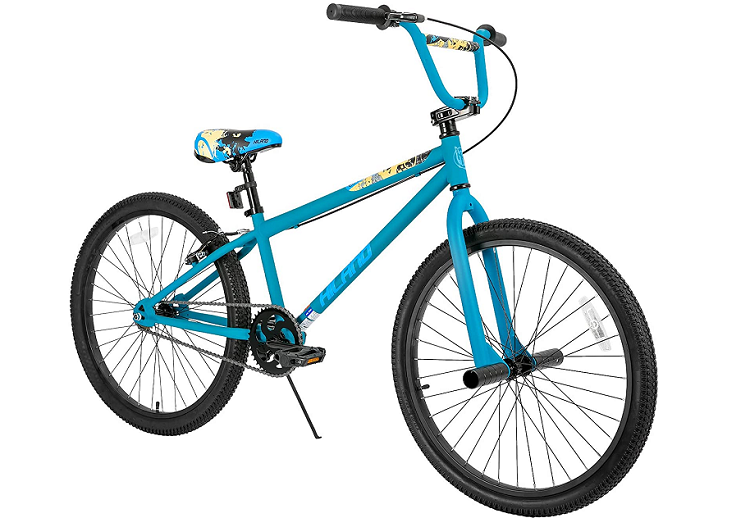 Starting on your BMX journey doesn't mean you need to splash out a considerable amount of cash initially. This is why I have included an entry-level and budget-friendly option on my list that still offers a good level of performance.
The Hiland BMX Bike is very competitively priced, and it is designed with beginners in mind. The bike has a hi-ten steel frame which not only offers durability but great performance, so this bike can cope with most things you ride it on.
The well-designed drivetrain makes this an easy bike to cycle, that further adds to its beginner-friendly appeal, and the aluminum linear-pull brake and brake levers are perfect for controlling your speed. Also, this bike comes 85% pre-assembled, so you won't have to spend a lot of time putting this bike together, and you can get out on the street as quickly as possible.
The blue, black, green, gray, and white color options give you some good choices if you want to go for a particular aesthetic. While this bike won't suit more experienced cyclists and BMX enthusiasts, it is a very good and cheap entry-level model.
Pros
Excellent bike for BMX beginners
It has a hi-tel steel frame
Easy to cycle and assemble
Available in different color choices
Cons
This is an entry-level bike, so it might not suit more experienced riders.
Schwinn Predator Team – Best Bike for Kids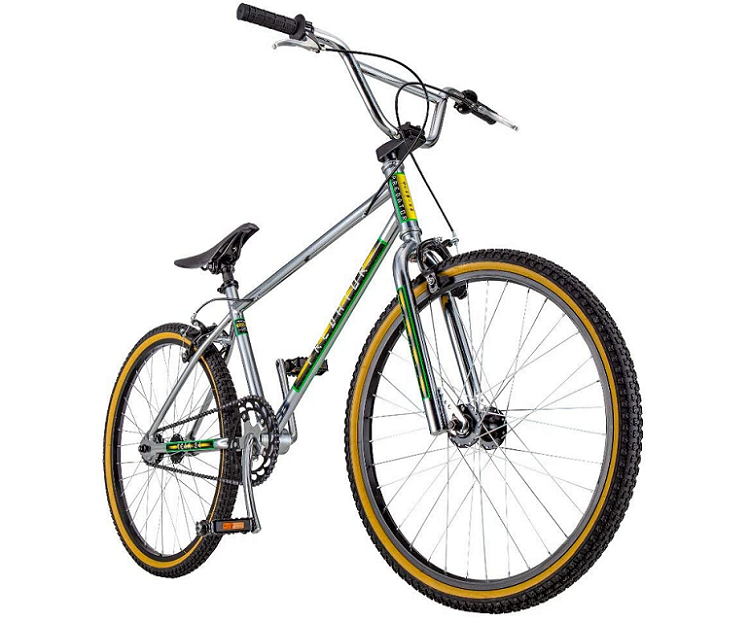 Finding the perfect 24-inch bike for kids is often quite challenging, but with the Schwinn Predator Team, you have a bike that ticks all the boxes.
This BMX bike does cost a bit of money, and it may seem like a lot for kids' BMX; however, you pay for quality, and this model has it in abundance. The bike has a hi-tensile steel frame and aluminum alloy rims to provide a high level of durability, and the design is based on a 1983 style. This provides a classic BMX look that will appeal to many and allows it to stand out from many modern-styled BMX bikes.
The Schwinn Predator Team is a good bike for racing or pulling off stunts on a dirt surface or on a smoother pavement. The construction of the bike allows it to perform well on different terrain, including if you simply want a bike for cruising.
One downside to this bike is the seat, made from hard plastic. The plastic seat can make cycling uncomfortable after extended periods, but this can be replaced relatively cheaply if you need to.
Pros
Great BMX bike for kids
It has a classic 80s style
Durable with a hi-tensile steel frame
Performs well in various conditions
Cons
The seat is quite uncomfortable, so you might need to replace it
Mongoose Title 24 BMX Race Bike – Best for Racing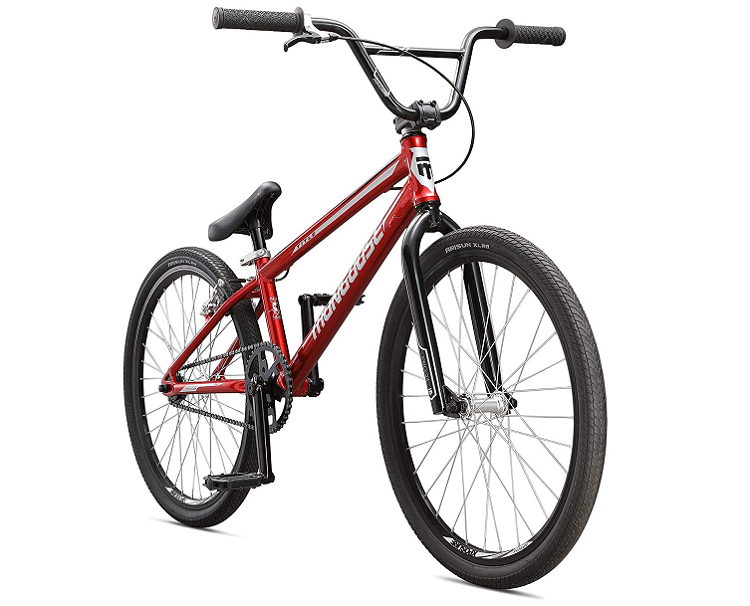 BMX racing is a very popular pastime; however, to perform well, you need a specially made bike for this purpose. This is why I have added the Mongoose Title 24 BMX Race Bike to my list.
Mongoose is an excellent BMX brand, and I am rarely let down with any of their bikes, and this model is no different.
This bike is designed for beginners or people who haven't tried their hand at BMX racing for a while. It might not suit more experienced racers, but the cost-effective price means it fits nicely into the beginner-friendly category. The aluminum frame keeps the overall weight of this bike low (ideal for racing around BMX tracks), while the alloy V-brake and brake levers allow you to control the speed with ease.
Steering performance is assured with the steel handlebar, 48mm stem, and sealed bearing headset.
The only downside I can find with this bike is that it is only available in one color option. This isn't too bad as I like the red finish on the frame, but if you wanted something more noticeable, this could seem a bit plain.
However, for a beginner's 24-inch BMX bike for racing, the Mongoose Title 24 BMX Race Bike is a quality bike from a quality manufacturer.
Pros
Great bike for BMX racing
Durable and lightweight with an aluminum frame
Excellent speed control and responsive steering
Offers great value for money
Cons
Only available in one color
DK CYGNUS 24″ BMX BIKE – Best for Freestyle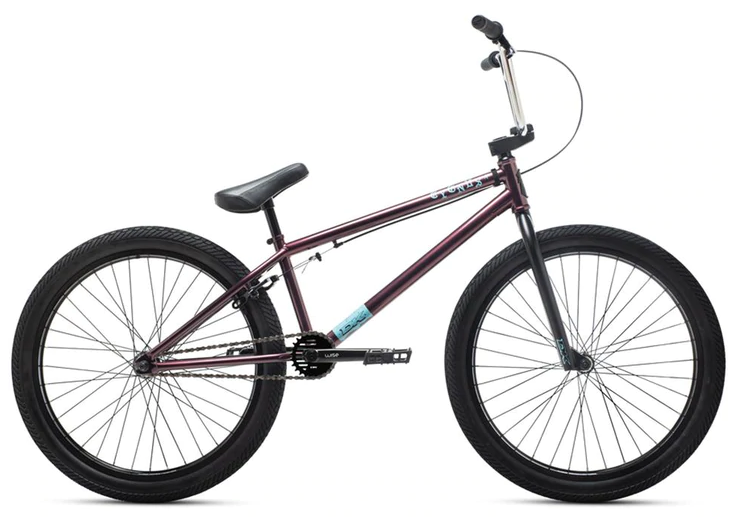 The DK CYGNUS 24″ BMX BIKE is my choice of 24-inch BMX bike for freestyling and pulling off stunts regularly.
The major draw of this 24-inch bike is its stability, which you certainly need to maintain control when performing tricks. A freestyle bike that is too heavy will limit your ability to pull off certain stunts, while too light will impact how well you can maneuver and control the bike – this one sits nicely in the middle. This model has a Chromoly frame which provides durability while ensuring that the weight remains low.
The grey zinc and purple color options provide a nice contrast to each other, so you can go for as understated or standout-ish as you like.
There isn't much negative to say about this BMX bike for freestyle, and it is aimed at bigger and older riders who desire more stability. Assembly should only take about 20-minutes, and you don't need to be an expert to and degree to get this bike together quickly.
I would suggest investing in a new cushioned seat, as the standard seat gets quite uncomfortable after a while.
Pros
Great 24-inch freestyle BMX bikes
It offers stability and is suited to bigger riders
Sold Chromoly frame
Two nice color options are available
Cons
You will want to replace the seat with a cushioned model
Redline Bikes Asset 24 – Best Lightweight Bike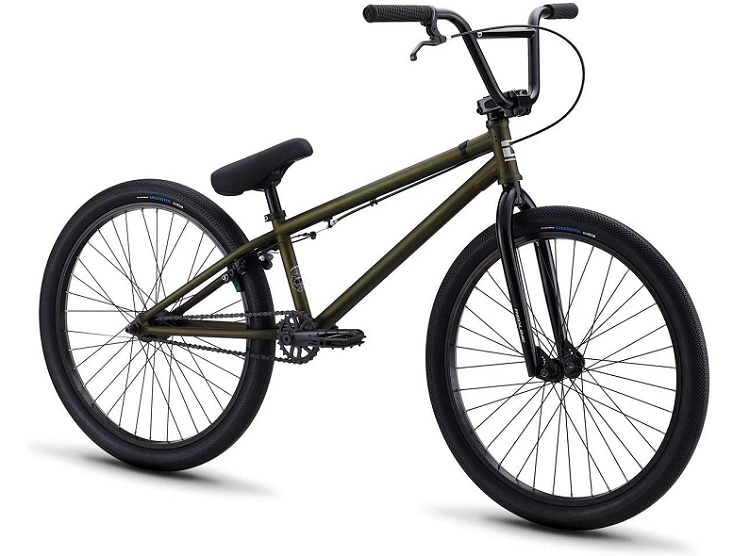 The last model on my list for the best 24-inch BMX bikes is the Redline Bikes Asset 24.
I have included this model because it is lightweight (it only weighs 11.8kg), and it is perfect for many BMX disciplines. The bike has a subdued but effortlessly stylish green finish, so it not only adds style but doesn't go it in an in-your-face way.
The frame is constructed from Chromoly steel that will add a high level of durability, and the Redline Monster PC ultra low profile pedals are a nice feature. You can take this bike out on a rugged trail, hit the skate park for some stunts, or cruise around the streets as it is a very versatile model.
You won't need to put a lot of time into assembling this bike either, as only the front wheel, pedal, and handlebar must be attached.
The bike won't suit shorter riders, as its geometry is designed for taller people, but for a lightweight option from a popular BMX brand, it is difficult to go wrong with the Redline Bikes Asset 24.
Pros
Brilliant lightweight BMX bike
Made from a reputable BMX brand
Solid frame with good durability
It doesn't require much assembly
Cons
This bike won't suit shorter cyclists
Frequently Asked Questions
Question: What Age is a 24 inch BMX Bike For?
Answer: As long as the bike is comfortable when cycling, a 24-inch BMX bike can be used by anyone. However, this size is mainly aimed at taller riders as it is a step up from the 20-inch BMX bikes.
Question: Is There Less Choice for 24-inch Bikes?
Answer: Yes. 20-inch is the standard size for BMX bikes, and you will find a lot more options in these sizing categories. Although there are many fantastic 24-inch models, you won't have the same range of options.
Question: Are 24-inch BMX Bikes Faster than 20-inch Bikes?
Answer: Potentially. 20-inch BMX bikes usually offer faster acceleration, but the top speed of a 24-inch bike will generally be higher due to the larger wheels. This can make many 24-inch bikes quicker than a 20-inch model.
Question: Should I Get a 24-inch Bike if I am Used to Mountain Bikes?
Answer: Yes. Mountain bikes are larger than BMX bikes as the standard sizes are 26″, 27.5″, or 29″. If you are transitioning from a mountain bike to a BMX, a 24-inch bike will be one of the most comfortable to cycle, and the change will be less of a shock.
Question: Can I Use a 24-inch Bike for Freestyle?
Answer: Yes. 24-inch bikes offer a good level of stability, although the larger size can make it difficult for you to bail out certain stunts. Many 24-inch bikes are lightweight and provide reasonable control, making them ideal for BMX freestyle.
Conclusion: The Best 24-inch BMX bike.
After reviewing and testing many 24-inch bikes, the best model on offer is the SE BIKES SO CAL FLYER 24.
Whether you are cruising, freestyling, or sometimes riding over rugged surfaces, this BMX bike can handle it all. It offers a durable and lightweight frame, comfort, and shock absorption, and the four unique styles give it a striking aesthetic.
The only downside is that it is a little bit more expensive than many cost-effective models, but the extra money is well worth paying for a solid all-rounder.
Continue reading related BMX bike guides and reviews: