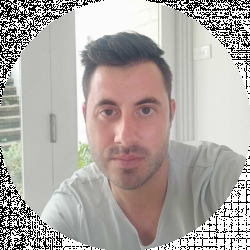 Latest posts by David Borgogni
(see all)
Buying BMX shoes can significantly improve your comfort levels, grip, and enjoyment when riding your bike on different surfaces. In our guide to finding the best BMX shoes, we will explore the best options available for you to buy.
We will look at the things you need to think about before you dive in and buy new shoes for riding your BMX, and we will also list the top models on the market.
If you want a quick overview of the shoes we will review later on in this guide, have a look at the table below.
At a Glance: 7 of the Best BMX Shoes in 2022
| | | | |
| --- | --- | --- | --- |
| Shoes | Best for… | Sizes available | More Info |
| DC Pure Casual Skate Shoe | Best overall | 6 – 18 | Find out more |
| DC Trase TX Shoes | Best basic | 4 – 14 | Find out more |
| Osiris Protocol Skate Shoe | Best for different designs | 5 – 14 | Find out more |
| Etnies Metal Mulisha Swivel Skate Shoe | Best wide base | 5.5 – 15 | Find out more |
| DC Spartan High WC TX SE Skate Shoe | Best high-top BMX shoe | 6 – 18 | Find out more |
| Vans Old Skool Pro Skate Shoe | Best retro BMX shoe | 6 – 12 | Find out more |
| Five Ten Freerider Pro Mountain Bike Shoes | Best luxury | 5 – 15 | Find out more |
Selection Criteria
When deciding on which BMX shoes made our list, we had to apply some strict criteria to include only the best shoes on the market. This criterion includes:
Design variety – We made sure to include shoes available in different styles to ensure that you have sufficient choice in the aesthetic of your shoe.
Slip-on and laces – We decided to have both slip-on and lace shoes as both offer pros and cons.
Cost – We understand not everyone can spend a ton of money on new shoes, so our list contains expensive and cost-effective but high-performing options.
Different brands – Even though Vans are forever associated with BMX, we included BMX shoes from many other brands.
Why Wear BMX Shoes?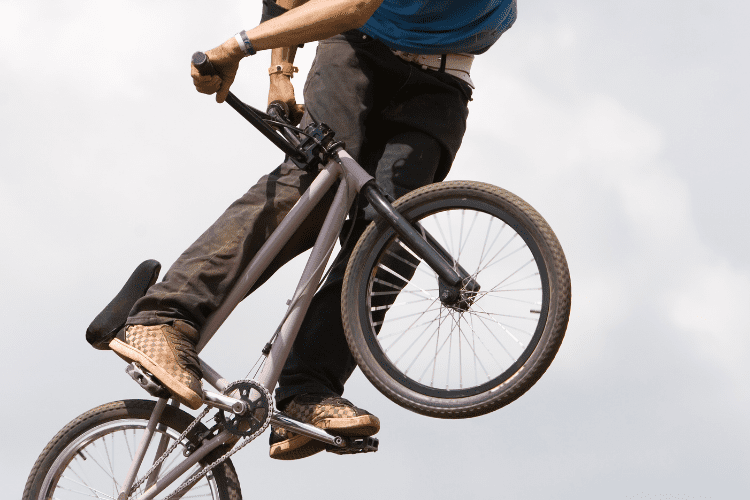 Wearing shoes that have been specifically designed for BMX riding can have a marked improvement on comfort and performance.
Sure, you could wear any old pair of sneakers to head out on your BMX, but buying proper BMX shoes can make all the difference. The advantages of wearing BMX shoes include:
Better grip – The soles on BMX shoes often have better grip than normal sneakers. This provides better safety and overall control of your bike.
Durability – BMX shoes will usually last longer than ordinary ones, especially if you ride your BMX frequently. Rather than having to replace sneakers regularly due to wear and tear, BMX shoes can last longer.
Airflow – A good pair of BMX shoes will have enhanced airflow. This ensures that your feet don't sweat unnecessarily and contributes to an overall more comfortable experience.
Things to Consider Before Buying BMX Shoes
Buying a new pair of BMX shoes can be confusing as many different kinds are on the market. These are a few things you should take into consideration before you make a purchase.
Sole
You will generally find shoes with either a cupsole or a vulcanized sole.
Cupsole shoes are usually more expensive, and they will take longer to break in and feel comfortable. Also, many riders comment that a cupsole can remove much of the pedal's feel when out on your BMX. However, cupsole's are favored by many people because they are more durable, so they will likely last longer, and they will also provide more support.
A vulcanized sole doesn't offer the same level of support and comfort as a cupsole BMX shoe. However, this type of sole is often a bit less expensive, so they can be more affordable to many people, while they are easier to break in, and you can feel the pedal much better. Another advantage of wearing a shoe with a vulcanized sole is that it can be more suited to landing on BMX due to its construction.
Cost
There are many budget-friendly types of BMX shoes on the market, and the beauty of this type of BMX gear is that there are models available for everyone.
Even if you have some money to spend on a new pair of BMX shoes, we recommend setting a strict budget and staying within it as much as possible.
Material
There are four primary materials that shoes come in – canvas, hemp, suede, and leather.
Most BMX shoes are made from canvas, and this is favored by many people. One of the big advantages canvas has over other materials is that it is very lightweight, so it is perfect for riding on your BMX without weighing you down.
Other materials such as leather and suede benefit from being more durable, and if you want a pair of shoes to last a long time, these materials are usually better.
Laces vs. Slip-on
Another thing to consider about buying BMX shoes is whether or not you want a slip-on pair, shoes with laces.
BMX shoes come in both varieties, and most of the time, the choice comes down to personal preference. Some people prefer the look of slip-on BMX shoes, while others opt for those with laces to provide an additional aesthetic.
One significant advantage of using shoes with laces is that they can be tightened easier, and they are usually more secure on your feet. This can be pretty vital when you are out on rough and bumpy terrain.
We usually recommend opting for shoes with laces as they provide the most secure fit. However, many slip-on shoes do provide tightening options that can help to ensure they don't become loose or fall off.
Comfort
Something else to consider when buying BMX shoes is how comfortable they are.
Certain features can add significant comfort when riding. This includes things such as a padded tongue and collar, which can provide enhanced support and comfort. Specialist insoles can also be bought for BMX shoes which significantly improve comfortability.
Also, some BMX shoes will have breathable mesh, which is excellent for airflow and ensuring your feet don't sweat or overheat. Many riders favor high-top shoes due to their increased support and comfort levels.
7 Best BMX Shoes
DC Pure Casual Skate Shoe – Best Overall BMX Shoes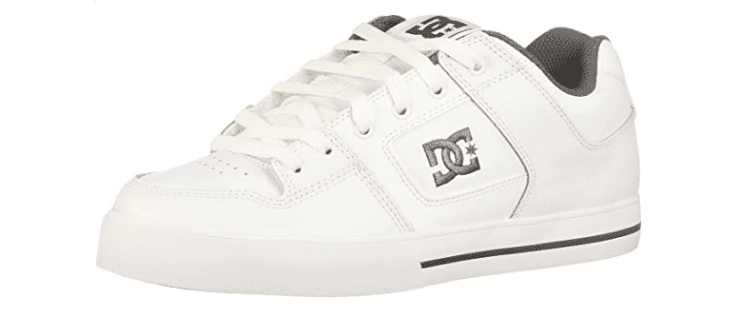 If you want an all-around dependable and top-performing pair of shoes for riding your BMX, go for the DC Pure Casual Skate Shoe.
In many ways, these are the perfect type of shoes to use for your BMX. They offer fantastic comfort combined with excellent ventilation to keep your feet cool even after long periods on your bike. For anyone who wants a significant amount of design choices with their shoes, they come in 22 different styles with various colors options.
We also like the classic skate look of these shoes, and they definitely give off an authentic BMX vibe.
The sole is thick, which is ideal for absorbing impacts, while they offer both budget-friendly and more expensive options, so they are available in every price range.
You may need to go half a size up or even a full size up from what you usually wear with this shoe, and this has caught some people out.
However, the DC Pure Casual Skate Shoei is our top pick if you want to upgrade to comfortable, durable, and high-performing BMX shoes at a reasonable price.
Pros
Comfortable and have a thick sole
Good ventilation
Available in 22 designs
Offers inexpensive and pricier options
Cons
You might need to go one size up for a comfortable fit
DC Trase TX Shoes – Best Basic BMX Shoes
If you aren't too fussed about having a ton of features with your BMX shoes and simply want something that is functional, affordable, and looks good, the DC Trase TX Shoes are a great choice.
The shoes look decent, and they provide a BMX/skate shoe aesthetic while being available at a very attractive price. The padded collars and rubber soles offer a good level of comfort while remaining lightweight. There is also an abrasion-resistant sticky rubber sold for added grip.
These shoes won't set your world alight, and they don't have a lot of stability compared to some models; however, if you are after a relatively inexpensive and no-nonsense shoe that is available in many designs, this is an ideal choice.
Pros
Decent shoes that offer comfort and durability
Lightweight and available in different designs
Very cost-effective
Cons
They might not suit experienced BMX riders
Osiris Protocol Skate Shoe – Best BMX Shoes for Different Designs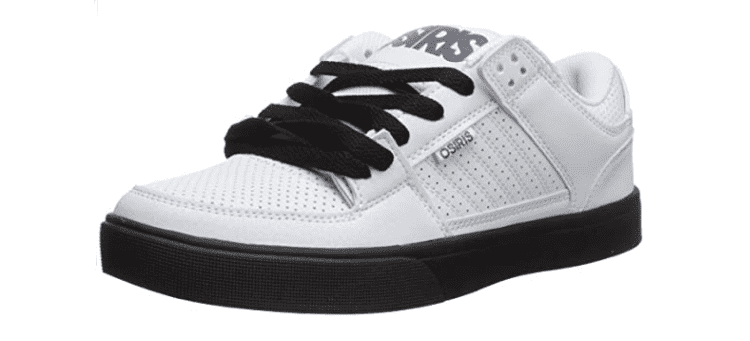 The Osiris Protocol Skate Shoe makes our list because if you want many design options to choose from, these are the shoes for you.
There are no less than 35 different designs with these shoes, so you have plenty of choices if you want something a bit different. The designs range from classic skate shoes to unique designs. Also, these shoes are available at a fantastic price, and you won't have to spend a lot of money to get your hands on a pair.
The lightweight nature of the shoes with padded collars provides a good level of comfort and grip, with decent ventilation too.
Some people have found that the Osiris Protocol Skate Shoe isn't the most durable, and they might need to be replaced sooner than you think after prolonged use.
Pros
Available in many different colors and designs
Cost-effective and affordable
Lightweight with good ventilation
Cons
Some concerns over how long the shoes will last
Etnies Metal Mulisha Swivel Skate Shoe – Best Wide Base BMX Shoes
Wide base shoes have some advantages over other models, and this is why the Etnies Metal Mulisha Swivel Skate Shoe is on our list.
The main bonus is that they are very comfortable, and the wide design coupled with the Foam Lite 1 insole makes these shoes a dream to wear. One thing we don't like about these shoes is that the design options are very limited (there are only four available), but they all have a modern aesthetic.
However, they are more durable than others due to the midsole egg-crate construction. These shoes offer a good grip for BMX riding, and they shouldn't need to be replaced anytime soon.
Pros
Wide base shoes for added comfort
Provide a high level of durability
These shoes have a modern design
Cons
The design options are a bit limited
DC Spartan High WC TX SE Skate Shoe – Best high-top BMX Shoe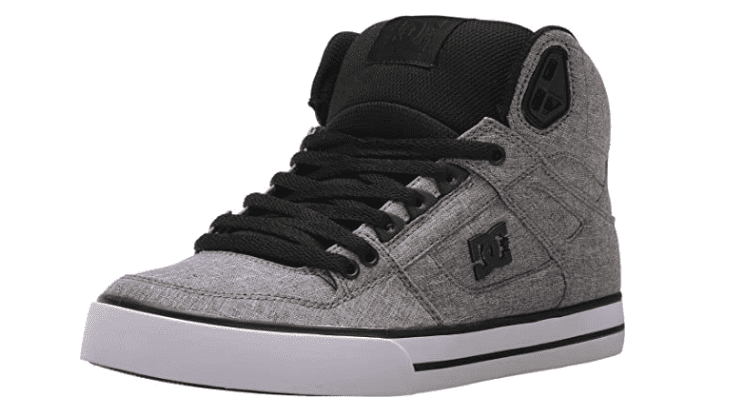 The DC Spartan High WC TX SE Skate Shoe is perfect for dirt biking and jumping and if you prefer a BMX shoe with a high-top design.
Like the Etnies Metal Mulisha Swivel Skate Shoes, they are very limited in their design options, and you won't find any striking and unique colors. However, in terms of performance, these shoes are a great choice.
They are magnificently padded throughout, and everywhere from your ankles to your heels and toes will feel comfortable with these shoes. While they might not be the most waterproof available, they can still withstand moisture while keeping your feet dry.
Overall, a fantastic shoe for BMX dirt biking and jumping with the added features of great ankle support and comfort.
Pros
High-top BMX shoe for added comfort
Padded throughout
Have some waterproofing abilities
Cons
Limited in their design and color options
It might not be the most durable
Vans Old Skool Pro Skate Shoe – Best retro BMX Shoe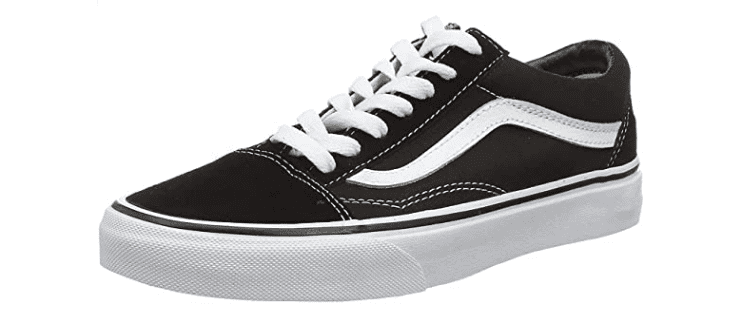 There is something about Vans that just give off a BMX and skating vibe, and if you want to go down the retro route, the Vans Old Skool Pro Skate Shoe is for you.
Since the beginning, vans have been part of the BMX scene, and these iconic shoes will suit anyone who wants a truly classic look. This isn't the only reason they have made our list.
These BMX shoes are perfect if you want to feel your pedals while still retaining comfort due to the vulcanized sole. OK, these shoes are a bit on the pricy side, and they won't suit everyone, but who could turn down a pair of Vans for your BMX?
If you want a combination of canvas and suede coupled with a timeless aesthetic, nothing beats these shoes.
Pros
Classic BMX shoe design
Well made and comfortable
Offer a great pedal feel
Cons
Vans can be a bit expensive
Five Ten Freerider Pro Mountain Bike Shoes – Best Luxury BMX Shoes

If you have a bit of money to spend on some new BMX shoes, the Five Ten Freerider Pro Mountain Bike Shoes are right up your street.
They are costly. You won't find a pair of these for a few dollars, and you'll need to splash some cash to get your hands on them; however, the performance they offer is well worth it. These shoes are incredibly durable and have an impact-resistant toe box with a weather-resistant 100% synthetic upper.
You would think that these shoes would be a bit heavy, but they are actually relatively lightweight and provide superior comfort.
They aren't for everyone due to their price, but these shoes are perfect for BMX with the above features and a breathable mesh lining.
Pros
Very durable and weather-resistant
Lightweight and breathable
Ideal for all types of BMX
Cons
These shoes are the most expensive on our list
Frequently Asked Questions
Question: Do I Need BMX Shoes?
Answer: Yes. While you can use any sneakers for BMX, proper biking shoes increase grip, comfort, and safety and create a better biking experience.
Question: What Material is Best for BMX Shoes?
Answer: Most people prefer canvas shoes as they are lightweight; however, other materials such as leather and suede can offer better durability and weather resistance.
Question: Are Vans BMX Shoes?
Answer: Yes. Vans are iconic to the BMX scene, and they offer a timeless design, although many newer brands are becoming synonymous with BMX.
Question: Are BMX Shoes Expensive?
Answer: It depends. You can buy budget BMX shoes that still perform well, or you can splash some dollars and find pretty expensive shoes with added features.
Question: Should I Wear High-Top BMX Shoes?
Answer: High-top BMX shoes are a good choice if you need additional ankle support as they are often more comfortable due to additional padding.
Question: Do BMX Riders Wear Clipped Shoes?
Answer: Clipped shoes and pedals have been banned for novice BMX racers since 2013, and they have recently been banned for all riders under 12 when racing.
Question: Should Your Pedals Play a Role in the Choice of BMX Shoe?
Answer: They can. Clipped pedals not only provide more control, but they can add to your comfort levels, too, as your feet won't slip in wet conditions.
Our Verdict: Which Are the Best BMX Shoes?
Our top pick for the best BMX shoes is the DC Pure Casual Skate Shoe.
If you want a classic skate shoe aesthetic combined with a whopping 22 design options, it is really difficult to look past this offering from DC. These shoes are also available for all budgets depending on what design you choose, so there is something for everyone.
You might need to go half or a full size up to get a comfortable fit, but this is a minor inconvenience. With excellent ventilation, a thick sole, an aesthetic that screams BMX, the DC Pure Casual Skate Shoe is our number one choice.