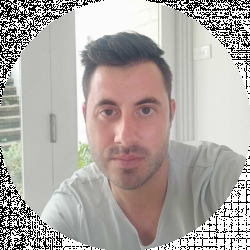 Latest posts by David Borgogni
(see all)
20-inch has been the standard size for BMX bikes for years, and in my guide to the best 20 inch BMX bikes, I'll show you the top models worth considering.
This bike size has several advantages, such as lower weight, better control, and the vast choice of models available. I'll look at what you should consider before purchasing a new BMX bike. I will also explore the significant differences between this bike size and other sizes for BMX bikes.
Bottom Line Up Front: My number one choice for the best 20-inch BMX bike is the Mongoose Legion L20. This budget-friendly bike performs well across several BMX disciplines and is perfect for freestyle and performing stunts. The Hi-ten steel frame offers durability, while the various features of this bike add stability and speed control.
At a Glance: Best 20-inch BMX bikes
The best 20-inch BMX bikes you can buy are:
Things to Consider When Choosing a BMX Bike
As 20-inch is the standard BMX size, there are a lot of bikes on the market. You should consider the following before jumping in and making a purchase.
Frame material
The material of the bike's frame is one of the most important things to think about. BMX bike frames are generally available in four different materials.
Aluminum
Aluminum is the most common frame material for BMX bikes, and it has several advantages, including being corrosion resistant. This material is also very lightweight and durable, with a good strength-to-weight ratio.
Also, an aluminum bike frame helps keep the cost low as it is a reasonably inexpensive material. However, aluminum isn't suited to regularly riding on tough and rugged terrain as it doesn't absorb impacts well.
Carbon Fiber
Carbon fiber is an excellent material for a BMX frame as it is incredibly lightweight and very durable.
The material has a low density, absorbing shocks and impacts, making for a more comfortable ride, especially when cycling on uneven surfaces. The main downside to a carbon fiber bike is the cost, as it is often the most expensive material and found on higher-end BMX and mountain bikes.
Titanium
Titanium offers a high level of corrosion resistance. It is a very durable material, which is perfect for BMX biking.
Performance-wise, titanium is on par with carbon fiber, although it does have the advantage of being easier to repair. Similar to carbon fiber, titanium is an expensive material, so BMX bikes frames made from titanium will often be pricey.
Steel
Lastly, we have steel, the most common material for BMX bike frames. Still, it has been overtaken by carbon fiber and aluminum in recent years.
Steel is heavier than other materials, which can be a disadvantage. It is pretty expensive to produce steel frames which will increase the cost. However, steel is very durable and ideal for certain BMX disciplines.
Cost
Your budget will play a significant role in what bike you choose.
Many budget BMX bikes can prove a bargain if you want an entry-level model or don't plan to use your bike regularly. Some BMX brands, such as Elite, offer excellent cost-effective bikes.
Set yourself a budget of what you can afford and look for bikes within your price range. If you do need to opt for a cheaper 20-inch BMX bike, aluminum frames are often the best to choose as this material keeps the cost of the bike low.
Discipline
There are different types of BMX disciplines. While you can buy some excellent all-rounder bikes, it is often helpful to look for a BMX bike made specifically for certain types of riding.
For example, street bikes are ideal for performing tricks and stunts, whereas race bikes are built for BMX racing. Also, you can find BMX bikes that are built for dirt jumping and other high-impact activities.
Design
Style plays a significant role in BMX culture, and you can find BMX bikes in many different designs. While the aesthetics shouldn't overrule the quality and performance of the bike you buy, it is an important factor.
You can find many BMX bikes with extravagant designs that will make you stand out, or you can opt for a more subdued and understated bike.
Warranty
Finally, the warranty is crucial when buying a new BMX bike.
If there is a manufacturer defect or if something goes wrong, it gives you peace of mind to know that your bike is covered. BMX bike warranties generally fall into four types:
Lifetime Warranty

Limited Manufacturer Defects Warranty

Lifetime warranty against defects in materials and workmanship

Limited "crash replacement" warranty
Be wary that the components and parts of the bike might not fall under the same warranty. For example, the frame might come with a lifetime warranty, but other parts such as pedals or chains may not.
The Major Differences Between 20-inch BMX bikes and other bikes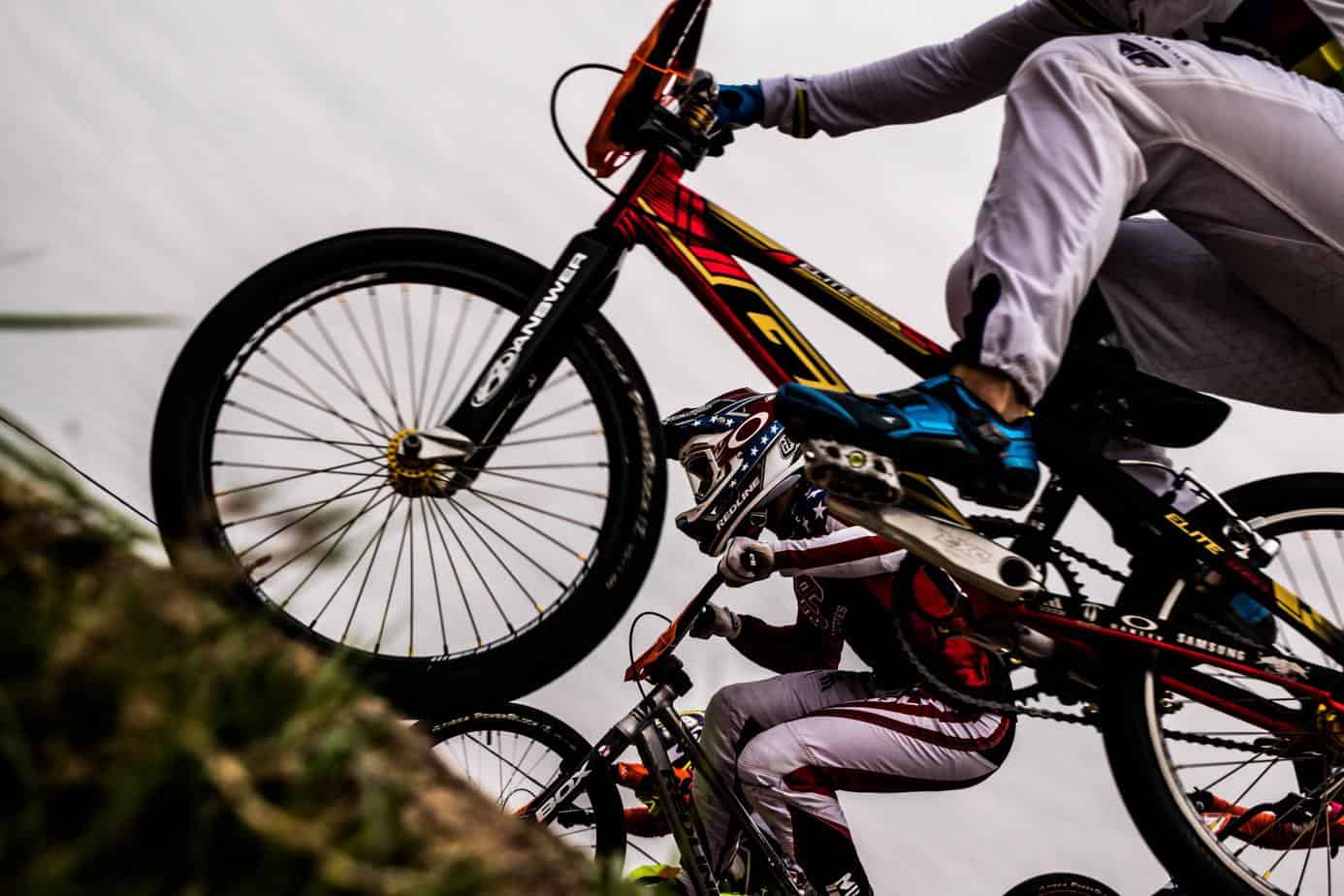 20-inch BMX bikes are suitable for 155cm or taller. In contrast, smaller BMX bikes will be very uncomfortable if you are a certain height.
A 20-inch frame is often called the original BMX frame, as it has been the standard size for many years. Also, 20-inch BMX bikes are lighter than larger bikes as they don't need as much frame material and the bottom bracket is lower to the ground.
These bikes often have a shorter chainstay and are more suited to pulling off technical stunts and tricks like tailwhips and 180s.
Advantages of 20-inch BMX bikes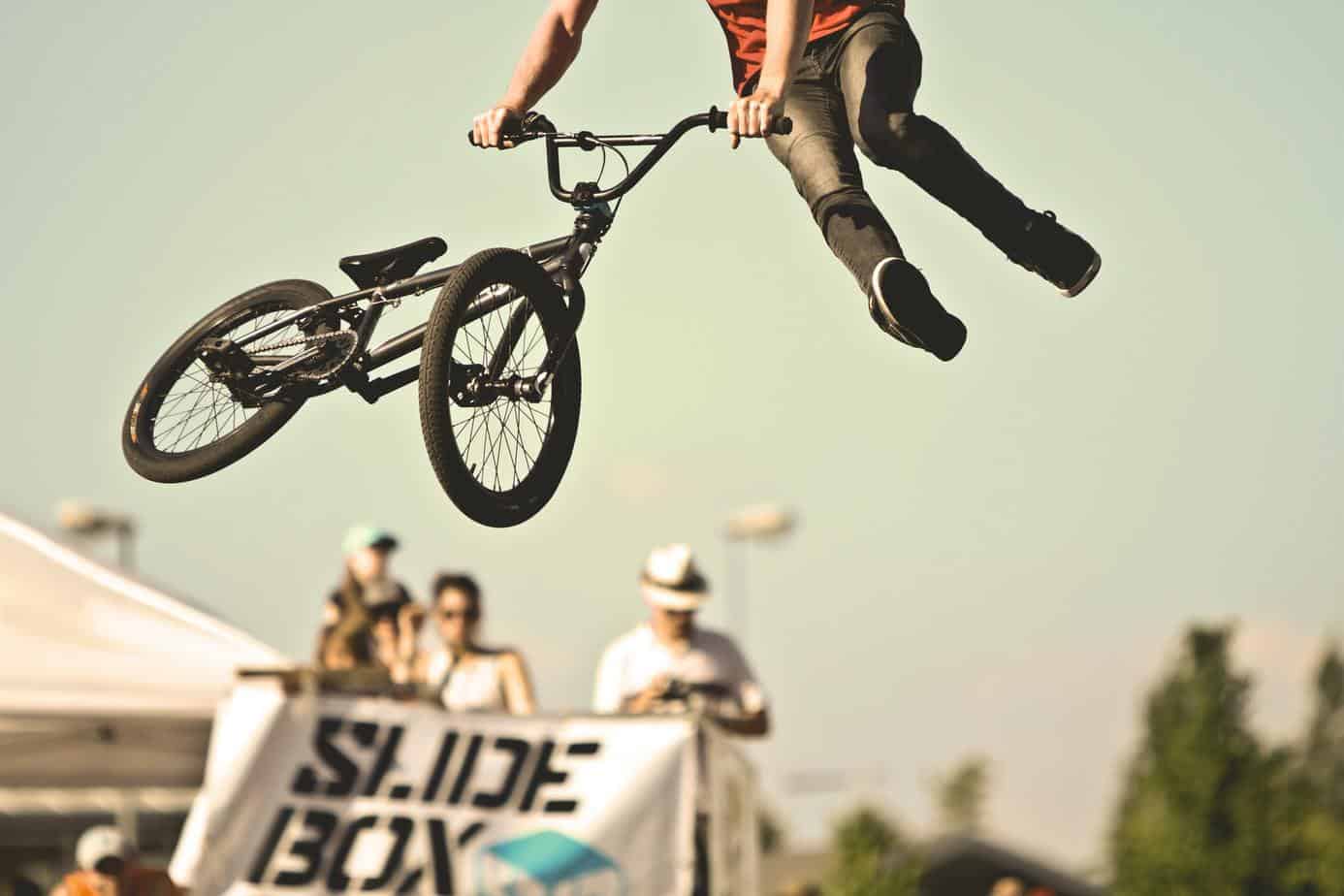 Opting for a 20-inch bike over other sizes does have some advantages.
Choice – 

As 20-inch is the standard size for BMX bikes and has been for many years, you have the most choice when picking out a new bike. There are a lot of 20-inch bikes on the market, so you won't be stuck to find one with the specifications you need.

Lightweight – 

20-inch bikes are light as they don't need to use as much material as a 24-inch bike. This means they can offer better maneuverability.

Control – 

As a 20-inch bike is lighter, you will have more control when performing ticks, allowing for more technical stunts.

Short chainstay – 

The shorter chainstay on a 20-inch bike allows the rear wheel to be closer to your center of gravity. It means you don't need to move back as far to lift the front wheel, which can help overall performance.

Stability – 

20-inch bikes also have a lower bottom bracket, allowing better stability as your feet are closer to the ground when cycling.
The Disadvantages of 20-inch BMX bikes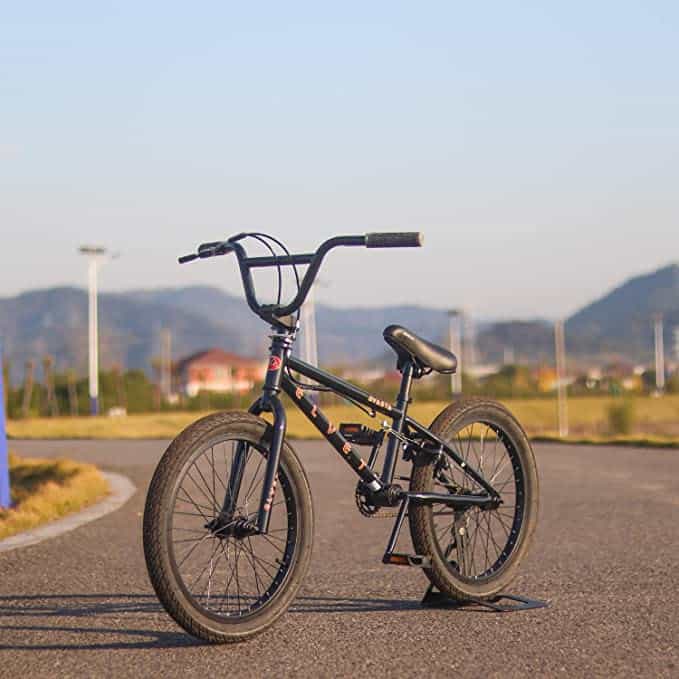 While 20-inch bikes have more pros, there are a few downsides to using this size of BMX bike.
Smaller size – 

Even though 20-inch is the standard size for a BMX bike, if you are tall, then it might be a bit uncomfortable to ride. You may want to opt for a 24-inch BMX bike instead.

Not ideal for casual riding – 

The smaller tires on a 20-inch BMX bike don't perform great for cruising and casual riding. They store as much kinetic energy and don't roll as long as 24-inch bikes.
Selection criteria
The 20-inch BMX bike market is enormous. It can be overwhelming when finding a bike for your specifications. My list had to use some strict criteria to cut down the amount of BMX bikes I could include. To ensure only the top BMX bikes made my list, I looked at:
Performance – 

All the 20-inch BMX bikes on my list offer superior performance, whether you are racing on BMX tracks, performing stunts and tricks in a skatepark, or using your bike for casual cycling.

Frame – 

I have included several types of BMX frame materials on my list. Some people prefer one material over others, so I have added a mix to suit everyone.

Cost – 

The BMX bikes on my list don't run into thousands of dollars. While some are more expensive, I have included several cost-effective options to ensure an affordable 20-inch BMX bike to cater to all budgets.

Design – 

All the bikes on my list come with a sleek and modern aesthetic. Style is an essential part of BMX culture, so I haven't included any bikes that have a basic design.
My Top Recommendations for 20 Inch BMX Bikes in 2022
Mongoose Legion L20 – Best overall 20-inch bike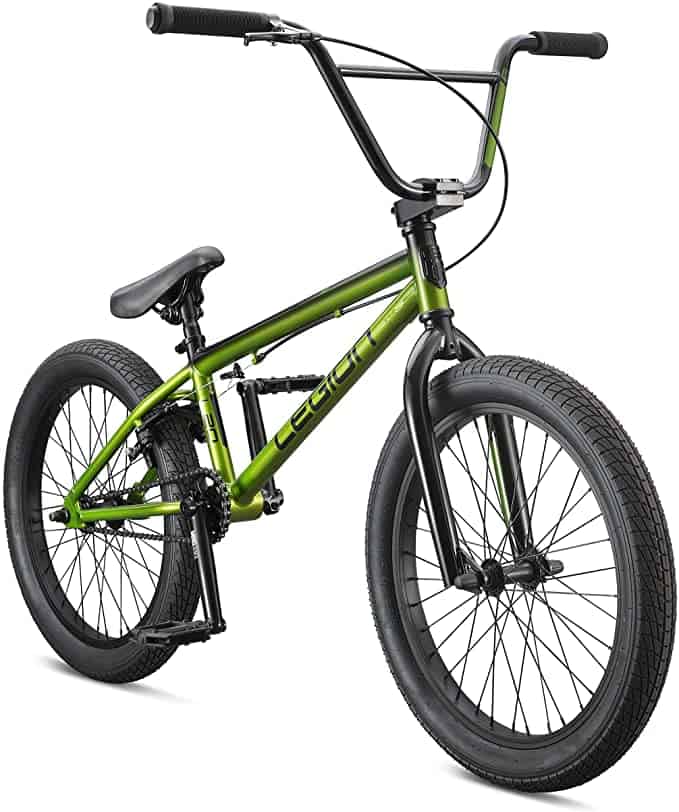 Mongoose is one of the most popular BMX brands, and their Legion L20 BMX bike is my top pick if you are looking for an excellent bike of this size.
This bike is suited to both beginners and more experienced BMX riders, and it comes packed with an array of features. This includes the Hi-ten steel frame, which offers durability and is perfect for freestyle riding and pulling tricks.
The Legion L20 comes with decent-sized handlebars for comfort and control. At the same time, the aluminum U brakes and brake levers add to overall speed management. If aesthetics is essential when purchasing a new BMX, the L20 has several color and style options, including:
Black

Teal

Blue

Green

Red

Silver
So, you have several color options to choose from.
The textured wheels offer a fantastic grip and won't slip on less than ideal surfaces, making this bike a safe model for kids and adults.
Some adults will find the size a bit small and will probably want to opt for the 24-inch model. However, overall the Mongoose Legion L20 is a great all-round performer that won't break your bank.
Pros
Durable BMX bike for a Hi-ten steel frame

Ideal for freestyling and performing stunts

Textured anti-slip wheels

Available in a range of colors
Cons
Won't be suited for taller adults
Mongoose Legion L60 – Best for street riding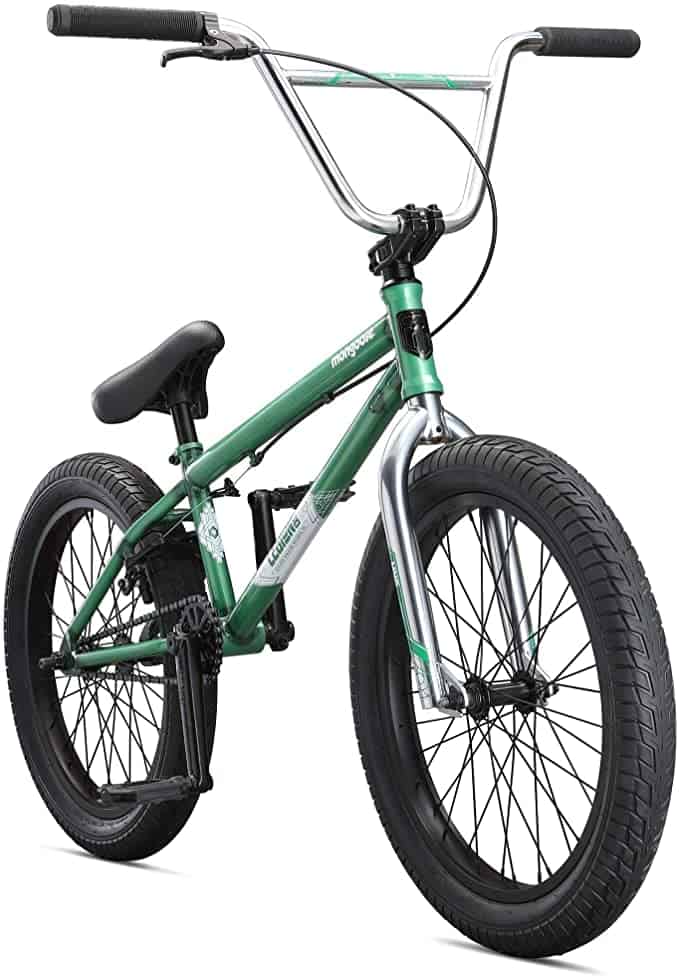 The second Mongoose bike on my list is the Mongoose Legion L60, which is better for street riding.
Similar to the Legion L20, which is my number one choice, the L60 has a Hi-ten steel frame that adds a high level of durability to this bike. This ensures that the L60 performs well for freestyle BMX, performs tricks, and provides overall durability when casual riding. You will also find removable brake mounts on this model, and even though it features a steel frame, I found this bike to be pretty lightweight.
You can also avail of the various color options for the L60, such as Black, Teal, Blue, Green, Red, and Silver, to create the aesthetic you want.
The drivetrain and overall construction provide good ground clearance meaning that this bike works well for street riding. It comes with thick tires to absorb impacts.
The bike doesn't come with pegs, which is a downside, especially if you are buying this bike for freestyle. Also, there is no rotating hub for the brake cables, which will impact spinning your handlebars.
While this bike works well for freestyle, it misses some crucial features, but the L60 performs great for street riding and casual stunts.
Pros
Good bike for street riding and some freestyle

Hi-ten steel frame for durability and low weight

Various color options available

Good ground clearance to absorb impacts
Cons
Doesn't come with pegs

No rotating hub for the brake cables
Elite Stealth BMX Bicycle – Best entry-level bike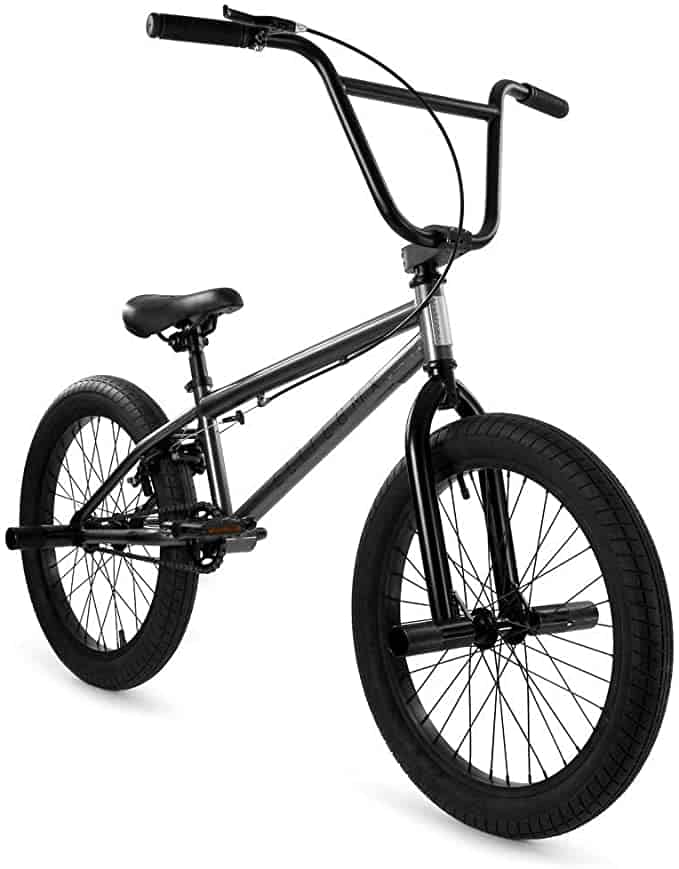 Elite is my go-to BMX brand if I want to save some money. I have included this Elite Stealth BMX Bicycle. It represents excellent value for money, especially if you are looking for an entry-level bike.
The versatility of the Elite Stealth is a major advantage as it can perform well across several BMX disciplines, including street, dirt, and park. Like the two Mongoose models above, this bike has a Hi-ten steel frame which adds a high level of durability while ensuring weight is kept low.
Another plus point to the Elite Stealth is that it comes with pegs, ideal for taking on stunts and tricks. Many bikes, including those specifically aimed at freestyle, don't come with pegs, so this is a nice addition.
You will be able to assemble this bike quickly, and it doesn't have any complicated parts.
The Elite Stealth is a great entry-level bike that is good for anyone on a budget or who doesn't want to spend a lot of money to get started in the world of BMX.
Pros
Good performance across different BMX disciplines

HI-ten steel frame for durability and low weight

Good control and comes with pegs

Easy to assemble
Cons
This is an entry-level bike, so it might not suit more experienced riders.
AVASTA 20″ Kids BMX Bike – Best bike for kids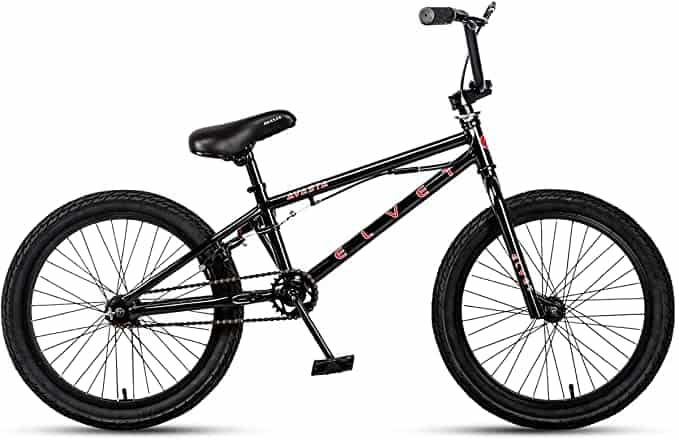 The AVASTA 20″ Kids BMX Bike is my choice if you look for a kid's BMX bike in a 20-inch size.
The model has smaller options if your child doesn't meet the recommended height requirements; however, the 20-inch size is a great BMX bike. There is a 360° rotor that allows the handlebar to turn right around and is ideal for spinning. At the same time, the bike comes with four pegs which will save you money having to buy these separately.
The frame on the AVASTA 20″ Kids BMX Bike provides durability and is made from Hi-ten steel, and overall, it weighs just 25.5lbs (11.6kg). Also, you will enjoy the fact that this BMX bike comes 85% pre-assembled, so you won't have to spend hours putting this bike together.
The one downside is that there is no kickstand included with this model. The absence of the kickstand isn't a dealbreaker, but it would have been a nice addition.
If you want to buy a new BMX for your kid and don't plan on spending hundreds of dollars, this AVASTA model (which is available in three colors) is a solid choice.
Pros
Ideal BMX bike for kids

360° rotor for handlebar spinning

Comes with four pegs

Fairly inexpensive but offers good performance
Cons
There is no kickstand with this bike
Jet BMX Accelerator Expert Race Bike – Best for racing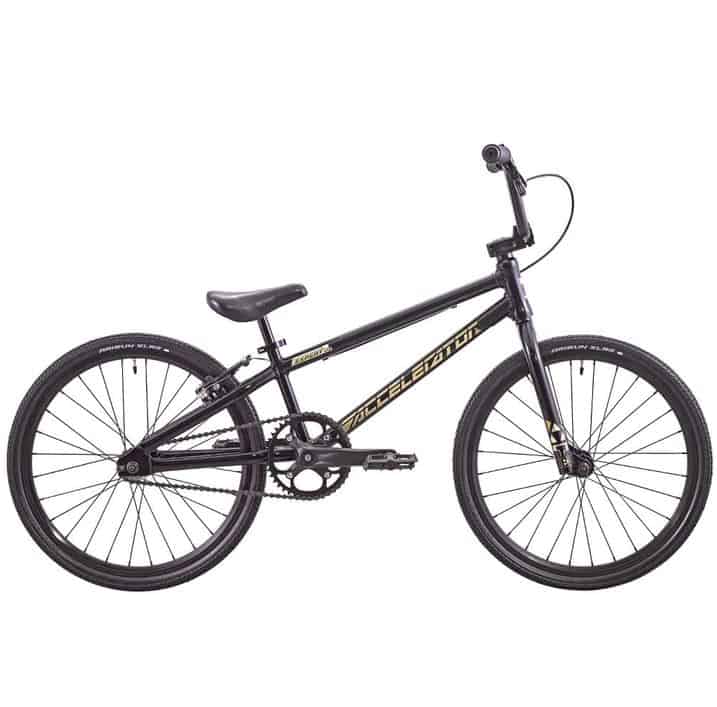 The best 20-inch bike for racing is the Jet BMX Accelerator Expert Race Bike.
This reasonably affordable BMX bike is perfect for racing around tracks due to its lightweight and overall durability. The bike features a 6061 Aluminum frame, and its general construction is geared towards racing geometry. Weighing just 19.11 lbs, it is ideal for picking up speed. This is an excellent bike for kids regardless of whether they need an entry-level model or are more experienced.
The performance to cost ratio is particularly good with this BMX. It isn't going to eat too much into a decent budget.
If you are looking for a 20-inch BMX bike for racing that comes with various design and color options, this probably won't be up your street. It offers black and silver styles; however, I think the overall aesthetic of this racing bike is sleek. The good thing about this bike is that all the parts and components come in a standard size, so if you need to upgrade anything, it won't be difficult.
Overall, the Jet BMX Accelerator Expert Race Bike is a perfect 20-inch model that will suit anyone up to 5 feet 6″ for racing around BMX tracks.
Pros
Solidy built 20-inch BMX racing bike

Fairly affordable price tag

Ideal for anyone up to 5 feet 6″

Would suit entry-level and more experienced BMX racers
Cons
The bike doesn't have many different color options
Subrosa Wings Park – Best for riding skateparks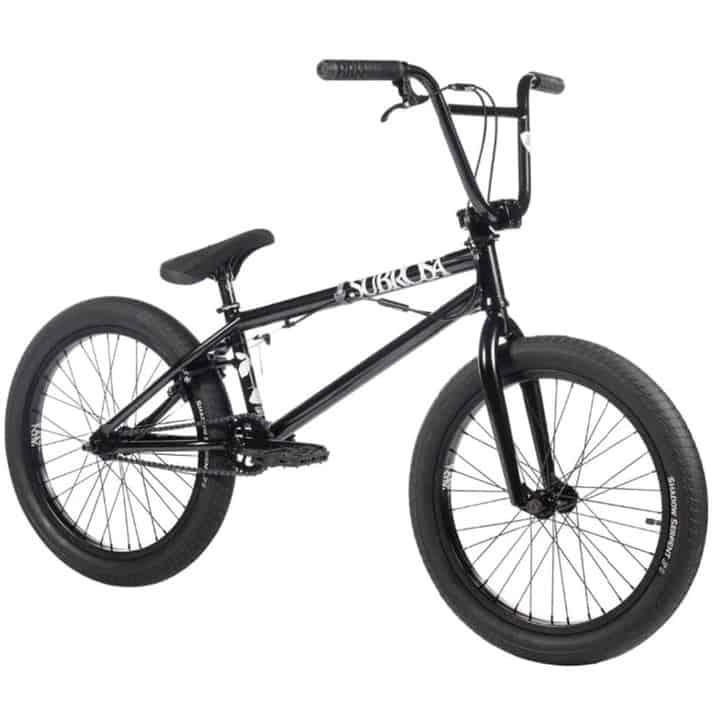 Skatepark riding is a popular BMX discipline, and I have included the Subrosa Wings Park for this purpose.
This 20-inch BMX bike is ideal for pulling off tricks and stunts in a skatepark or simply riding on smoother surfaces. You'll find a Hi-ten steel frame that provides durability with fairly low weight. Even though this bike is generally suited to riders up to 5 feet 4″, the geometry is designed to suit slightly taller riders.
Pedal engagement is enhanced with the cassette hub, and I have found this bike quite comfortable, mainly down to the frame. The responsive crank arms allow you to pull off more technical tricks and stunts, and the handlebar design eases the pressure on your wrists.
While this isn't the most affordable bike, it doesn't cost too either, so it would suit someone with a midrange budget. Like the Jet BMX, there are limited color and design choices available. If you are looking for a bike to ride on rigid and difficult surfaces, this won't work.
However, the Subrosa Wings Park is a solid choice for skatepark riding and pulling off tricks.
Pros
Ideal for skate park riding and performing tricks

Durable and offers good level of control

Responsive crank arms

Would suit a mid-range budget
Cons
Isn't suited to riding on tough terrain
Fly Proton CST – Best lightweight bike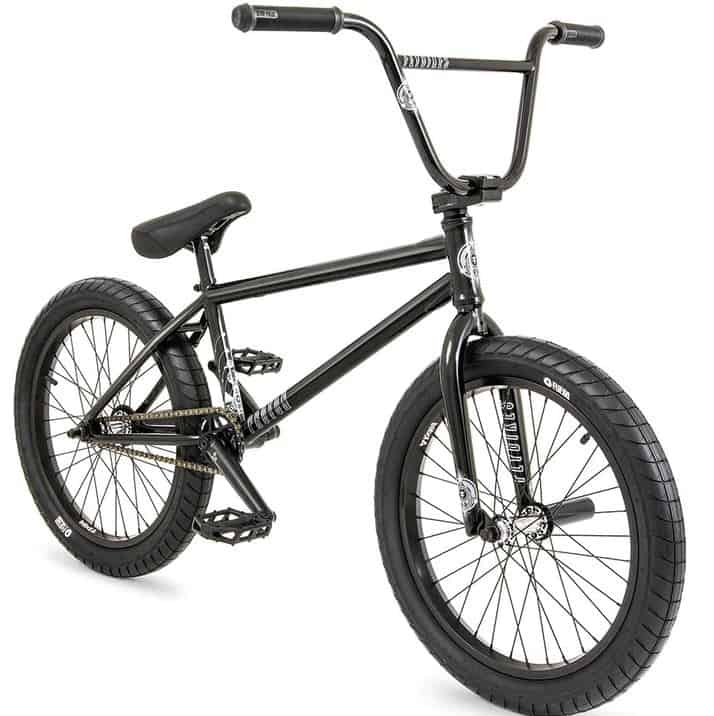 The final 20-inch BMX bike on my list is the Fly Proton CST.
This bike is incredibly lightweight. It has a Chromoly steel frame that helps keep the weight low and ensures that this bike is very durable. The Fly Proton CST can be ridden on virtually any surface with this durability and construction. It can cope with most types of BMX, making it a valuable all-rounder.
I love this bike's sleek and modern design, and its aesthetics are a major draw if you want to look good while freestyling or street riding. If you are looking for a bike above entry-level and are hoping to upgrade to a mid-range BMX, the Fly Proton CST is definitely worth considering.
The only downside I can find with this BMX is the cost. While it doesn't run into the thousands of dollars, it is a bit more expensive than some other bikes I have reviewed here. That's why it would suit someone who has some money to spend on an upgraded model and design the right performance to low weight ratio.
Pros
Low weight BMX bike

Good mid-range model

Ideal for various types of BMX riding

Durable and has a sleek design
Cons
This bike does cost a bit more than other models
Frequently Asked Questions
Question: What age is a 20 inch BMX bike for?
Answer: Anyone, including children and adults, can ride 20-inch BMX bikes. The minimum recommended age is 7-8 years, depending on height; however, some taller adults might find a 20-inch BMX slightly small and may opt for a 24-inch bike.
Question: How tall should you be for a 20 inch BMX bike?
Answer: The shortest height to use a 20-inch bike effectively and comfortably is 155+cm (slightly over 5 feet). Although there are other modifications you can make to your BMX to ensure it is comfortable for your height.
Question: Are 20-inch BMX bikes easy to control?
Answer: Yes. As 20-inch BMX bikes are lighter and the bottom bracket is lower, this creates better stability, allowing you more control over your bike and maneuverability.
Question: What is the best frame material for a 20-inch BMX bike?
Answer: It depends on your specifications. Carbon Fiber and Titanium are light and offer excellent performance, but they are pretty expensive. If you want a budget 20-inch bike, aluminum is ideal as it is corrosion-resistant, durable, and inexpensive.
Question: Is a 20-inch BMX suited to street cycling?
Answer: They can be. Usually, 20-inch bikes are better for freestyle and off-road cycling. They don't hold as much kinetic energy as a 24-inch bike which is generally better for casual and street cycling.
Conclusion: The Best 20-inch BMX bike
The Mongoose Legion L20 is the best overall BMX bike that you can buy in a 20-inch size, in my opinion.
This bike doesn't have any major downsides aside from being a bit short for taller adults. The Hi-ten steel frame provides durability. The different features of the Legion L20, such as the textured tires, 170mm forged steel cranks, and a 25T alloy chain system, offer control and stability when riding.
I also like the fact that you have many color options to choose from, which the Mongoose Legion L20, and for the money, it is a solid investment for a beginner or a more experienced cyclist.
Continue reading related BMX Bike guides and reviews: