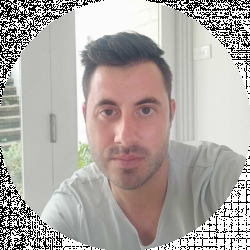 Latest posts by David Borgogni
(see all)
BMX pegs are an essential component if you want to effectively pull off certain tricks and stunts. In my guide to finding the best BMX pegs, I'm going to take you through everything you need to know about this bike accessory.
I'll look at the different materials pegs are made from, some things you need to consider before you buy, and I'll review the top BMX pegs that are available on the market.
If you have any questions about pegs, I have answered some common queries towards the end of this guide. You can view the BMX pegs that have made my list on the handy table below.
Bottom Line Up Front: The Odyssey Graduate Peg Black is my top pick for the best BMX pegs. These metal pegs provide everything you need to perform great tricks and stunts.
They are highly durable due to the Chromoly steel construction with a plastic sleeve, and they don't cost a lot of money either. If you want the ideal pegs for your BMX freestyle and pulling off insane tricks, these are the ones to choose.
At a Glance: 6 of the Best BMX Pegs in 2022
| | | | | | |
| --- | --- | --- | --- | --- | --- |
| Pegs | Best for… | Material | Length | Diameter | More Info |
| Odyssey Graduate Peg Black | Best overall | Metal | 4.5" | 1.5" | Find out more |
| Black Ops Knurled Pro | Best for beginners | Plastic | 3″ | 1.3" | Find out more |
| Odyssey MPEG Axle Peg | Best for durability | Metal | 4" | 1.3" | Find out more |
| 25NINE Anodized Aluminum BMX Bike Pegs  | Best with different color options | Metal | 4.3" | 1.5" | Find out more |
| SE BIKES Axle Pegs  | Best luxury | Metal | 3.85" | 1.3" | Find out more |
| Black Ops Lead Foot | Best skinny | Metal | 4" | 1.29" | Find out more |
Why Use BMX Pegs?
BMX pegs are used on freestyle and street bikes to help perform tricks and stunts.
You won't find pegs on dirt riding or racing bikes, and they are banned for BMX racing events. Pegs provide several advantages, including centering your weight, allowing you to have better stability and control. This lets you perform stunts such as rail or ledge grinds easier.
Pegs can be placed at the front or back of your BMX. Some people have included them in both places, which is helpful for grinding on both sides.
Things to Consider Before Buying BMX Pegs
Pegs are one of the cheaper BMX components; however, many different models are available. Before you jump in and buy new pegs to help with your tricks and stunts, here are some things to consider.
Material
Pegs come in two materials – plastic and metal. If you have been riding BMX for a while, you have probably come across the conversation before as both materials have their pros and cons.
Metal pegs are usually made of Chromoly steel, which offers fantastic durability and a nice aesthetic. The surface of metal pegs tends to be a bit slippier; however, this isn't necessarily a bad thing. If you are more experienced, a slippery surface can be ideal, especially with a quality pair of BMX shoes. Metal pegs often cost more money too.
Plastic pegs offer more grip, which is better for beginners and those who aren't as experienced with BMX freestyling and performing tricks. The downside is that plastic pegs aren't as durable, but you can replace them easier as they tend to be less expensive.
Diameter
The standard peg diameter for a BMX peg is 1.5 inches (38.5mm). However, you can find skinnier options, and I have listed one below.
If you want to reduce the overall weight of your BMX bike, a skinnier peg is a good choice. The weight reduction can help you perform more tricks and stunts, although many beginners and inexperienced BMX riders often prefer the standard 1.5 inches (38.5mm) size.
Axle Size
When adding pegs onto your BMX, the axle size is something else to consider.
Most pegs fit onto a standard 14mm axle, which most people will have, especially if you have a street bike. This axle size is different from racing bikes which are generally 3/8, although they are banned from BMX racing events.
However, if you do have a different axle size on your BMX, don't fret. Most pegs – including many of the models I have listed below – will come with an adapter to fit onto a 3/8 inch axle size.
Length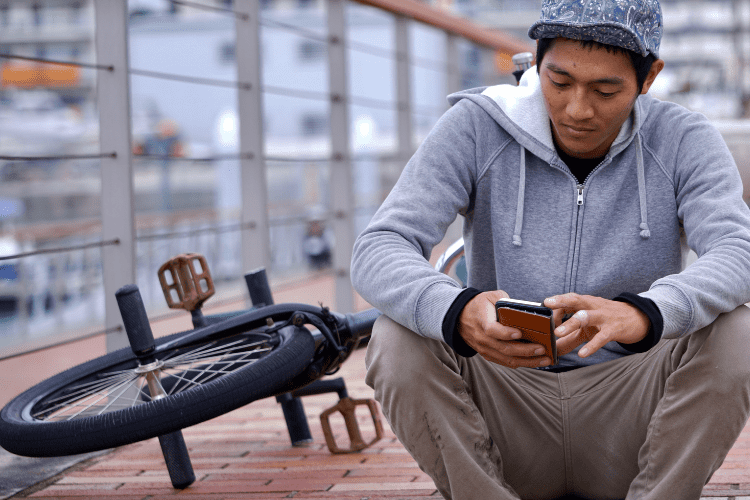 BMX pegs come in different lengths.
The standard length size is in and around 4 inches or 100mm; however, you can find some long and short models.
The 4-inch size is fine for most people, but some may require a longer or short peg. For example, if you have larger feet or you want to feel like you have more control, a longer-length peg can be ideal. Some riders favor shorter pegs, who find the axle intrusive and restrictive, especially for air tricks, so they opt for a shorter and skinnier model.
The standard peg length should be fine if you are a beginner, but you might want to choose a longer peg for added grip.
Cost
Compared to many other BMX components and accessories, pegs are one of the cheaper items you can buy.
Although, you can find expensive models that offer more durability and a more distinct style. Like all BMX equipment, bikes, and accessories, it is best to set yourself a budget and try to stick to it.
Even though pegs are pretty inexpensive, you can still end up spending more than you should. So, find out what you can afford and look for BMX pegs within your budget.
Selection Criteria
Pegs might seem a simple addition to your BMX, but there are a lot of models available. The market can feel overwhelming, so I have used some selection criteria to ensure only the best BMX pegs made it onto my list. I used the following to filter out poor pegs:
Durability – All the pegs I have listed, whether they are plastic or metal, are durable and can withstand the rigors that come with BMX stunts and tricks.
Material – I have included both plastic and metal pegs on my list. They have their pros and cons, and some prefer material over the other, so both are included here.
High-quality – The pegs I have reviewed and listed are all high-quality, backed up by usage and reviews from other bikers.
Cost – Even though pegs are cheap, I have made sure to keep the cost low, so nearly all the products on my list can be bought at a budget price.
6 Best BMX Pegs
Odyssey Graduate Peg Black – Best Overall
The Odyssey Graduate Peg Black is my top choice if you want a high-quality and affordable peg for your BMX.
Odyssey is one of the best brands for pegs, and this model is no different. This metal peg comes with a plastic sleeve which ensures a smooth finish. The Chromoly steel construction adds to the overall durability of the Odyssey Graduate Peg, and the 4.5-inch length and 1.5-inch diameter is a nice standard size that would suit most BMX riders.
Pegs are pretty cheap, although this peg is slightly more expensive than some other models. The main downside is that you only get one, and it doesn't come as a set of two. This will increase the cost a bit; however, that is the only major downside to this product.
For performing tricks and stunts, this BMX peg provides excellent grip, durability, and it also has a nice subtle but stylish design.
Pros
Durable metal peg with plastic sleeve
Offers good performance
Suits all BMX riders
Cons
The peg is sold as a single product rather than a pair
Black Ops Knurled Pro BMX Pegs – Best for Beginners
If you prefer using a plastic BMX peg, the Black Ops Knurled Pro is the one to choose.
This peg offers brilliant durability for a plastic model, and its strength is on par with many metal pegs. One of the significant advantages of this product is its affordable price, and even if you did have to replace them after a while, it wouldn't cost you very much.
These pegs would suit more experienced BMX freestylers due to their length but is entirely down to personal preference. These pegs are relatively short, especially compared to the other pegs on my list, and this is something to keep in mind.
The pegs are threaded on both ends, and I found these very easy to install, so you won't need to spend much time fitting them onto your BMX.
It is hard to beat these plastic BMX pegs for the price, functionality, and the fact they are sold as a pair.
Pros
Durable and strong plastic BMX pegs
Sold as a pair and very affordable
Perform well for tricks and stunts
Cons
These pegs are a little short
Odyssey MPEG Axle Peg – Best for Durability
This is another fantastic Odyssey BMX peg, and the Odyssey MPEG Axle Peg is my top choice for overall durability.
This model's enhanced and robust construction ensures that it will last even with repeated and regular use. These pegs are relatively small and won't suit everyone, but it is a peg that would work for experienced and novice BMX riders alike.
The matte black stylish gives a subtle but nice aesthetic that should blend in with the rest of your bikes' design. There are also three anti-roll positions on these pegs.
The installation of these Odyssey pegs is super easy as they aren't threaded. You won't need to spend much time getting these onto your bike, which is always a bonus.
The weight of these pegs is 1.13lbs which will add a bit extra onto your BMX compared to some other models, but I think this is a small price to pay for the added durability.
Pros
Highly durable BMX peg
Available at a good cost
Subtle but stylish design
Easy installation
Cons
These pegs are a bit heavier than others
25NINE Anodized Aluminum BMX Bike Pegs – Best with Different Color Options
Many of us like adding a different aesthetic to our BMX bike, and sometimes it is nice to have a distinct style when performing stunts and tricks. The 25NINE Anodized Aluminum BMX Bike Pegs are my choice if you wish to choose from an abundance of color options.
These pegs come in:
Blue
Copper
Gold
Light Blue
Light Green
Purple
Pink
Teal
So, you can massively spruce up your bike with these colorful pegs. Aside from the color, these pegs offer a high level of performance. The 25NINE Anodized Aluminum BMX Bike Pegs are compatible with both 14mm and 3/8 inch axles and come with an adapter if you need it.
The aluminum construction ensures that these pegs are durable and keeps the overall weight low as well. The only downside to these pegs is if you don't want a vibrant and colorful design as there isn't a standard black option, but otherwise, these pegs offer fantastic value.
Pros
Available in a wide range of colors
Stylish and offers great aesthetics
Durable and lightweight
Easy to install and comes with an adapter
Cons
Won't suit if you don't want a vibrant design
SE BIKES Axle Pegs – Best Luxury
The SE BIKES Axle Pegs is a luxury choice as they are a bit more expensive than the other pegs on my list. The other reason they are considered a luxury peg is the gold color, which will provide a real classy finish to your BMX.
You can easily combine these pegs with more subtle colors to make them stand out, or you can use them to add to an already vibrant aesthetic.
They do weigh a bit more than some other models, and they come in at 1.18lbs, although it shouldn't add a massive amount of weight to your bike.
Performance-wise, these pegs work well, offer good grip, and are ideal for stunt tricks and maneuvers. You can use these pegs as either an experienced BMX rider or something just starting out on their journey. The length is a little short but not as much as the Black Ops Knurled Pro BMX Pegs.
Pros
Beautifully styled in gold
Luxury and classy feel
Offers good performance
Cons
These pegs are quite expensive
Short, so might not suit all bikers
Black Ops Lead Foot – Best Skinny Option
The final pegs on my list are the Black Ops Lead Foot BMX Pegs.
If you prefer a skinny peg, I would recommend this product. Thinner pegs do suit some people, and many BMX riders prefer them to pull off certain tricks and stunts. Also, they tend to be lighter and keep the overall weight of your bike low.
These pegs have decent durability as they are made from alloy steel, and they are also knurled and groove to provide a high level of traction and control. Installation is straightforward with this Black Ops model, and you will have these pegs onto your BMX in no time.
The Black Ops Lead Foot BMX Pegs sit very much in the middle in terms of pricing. They aren't the cheapest pegs on my list, but they certainly aren't the most expensive either, so they represent a good mid-range option.
One thing to be wary about is that the thread sizes are different in the two-color schemes – black and chrome plated. This has caught some people out, so just be careful. However, this is a stellar option if you want a skinny, lightweight BMX peg.
Pros
Skinny BMX peg
Has good durability
Available in two colors
Reasonably priced
Cons
Won't suit if you want a thicker peg
The thread size is different for each color
Frequently Asked Questions
Question: What are BMX Bike Pegs for?
Answer: BMX pegs are essential for street riding, freestyling, and performing BMX tricks. They allow you to grind and perform other stunts by attaching to either your bike's front or real axle.
Question: What Material are BMX Pegs Made from?
Answer: Pegs are made from metal – such as Chromoly steel and aluminum – or they can be made from plastic. Both materials have their pros and cons, although metal pegs tend to be more durable.
Question: Can You Put BMX Pegs on Any Bike?
Answer: You can put BMX pegs on pretty much any street or freestyle bike, although pay attention to the specifications of each product. BMX pegs aren't allowed on racing bikes.
Question: Is it Easy to Install BMX Pegs?
Answer: Yes. BMX pegs are very easy to put onto your bike. Some are more straightforward than others; however, even the tricky BMX pegs won't take a long time to install.
Question: Are BMX Pegs Expensive to Buy?
Answer: No. You can find higher-priced models, but the vast majority of BMX pegs are inexpensive and they are one of the cheaper BMX components.
Question: Will BMX Pegs Weigh my Bike Down?
Answer: Not really. While adding pegs onto your BMX will mean some additional weight, they are very light in general, so you shouldn't notice a huge difference.
My Verdict: What are the Best BMX Pegs?
In my opinion, the best BMX pegs are Odyssey Graduate Peg Black.
The only real downside to this model is that they are sold as a single peg, so you need to buy two instead of getting a pair. However, everything else works perfectly with this product.
Not only are these pegs durable with metal construction and plastic sleeves, but they offer excellent grip, and I like the subtle black design, which would fit into any BMX style.