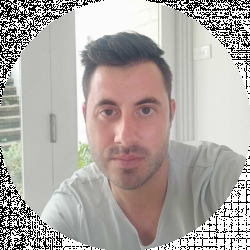 Latest posts by David Borgogni
(see all)
Gloves are an integral piece of kit to protect your hands when taking part in different types of BMX cycling. Whether it is to prevent blisters or absorb impacts if you fall, it is essential to have a high-quality pair of gloves.
My guide on how to find the best BMX gloves will show you the top gloves you can buy for performance, protection, and comfort.
I'll look at what you need to think about before buying gloves before reviewing the top six pairs on the market.
If you want a quick overview of the best BMX gloves, look at the table below.
Bottom Line Up Front: The best BMX gloves you can buy are the ROCKBROS Mountain Bike Gloves. These gloves provide complete protection for your hands and fingers with a lycra and rubber design, which is backed up with a 6mm silica gel padding.
The touchscreen-friendly fingertips are a cool feature that sets these gloves apart, while the material is breathable and will ensure your hands are well protected against falls, impacts, and scrapes.
At a Glance: 6 of the Best BMX Gloves in 2022
| | | | |
| --- | --- | --- | --- |
| Gloves | Best for… | Material | More Info |
| ROCKBROS Mountain Bike Gloves  | Best overall gloves | Lycra and rubber | Find out more |
| Souke Sports Cycling Bike Gloves | Best half-finger gloves | Nylon and spandex | Find out more |
| ILM Steel Knuckle | Best for BMX racing | Cotton | Find out more |
| COFIT Anti-Slip Cycling Gloves | Best budget gloves | Lycra Spandex and Microfiber | Find out more |
| INBIKE Thermal Bike Gloves | Best winter gloves | Polyester | Find out more |
| Saints of Speed BMX Gloves | Best gloves with different styles | Polyester | Find out more |
Why Wear BMX Gloves?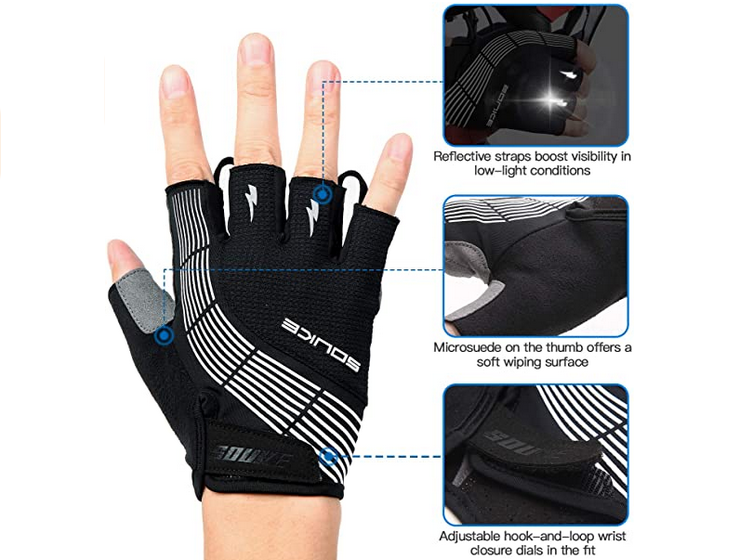 Gloves don't get as much attention as many other types of BMX gear.
However, gloves are an essential piece of kit to keep yourself protected when racing, dirt jumping, pulling off stunts, or just cruising around. BMX gloves are important to provide adequate protection to your hands if you fall or to prevent blisters.
Gloves also help improve grip and can positively impact performance as they can offer more control when gripping the handlebar.
Things to Consider Before Buying BMX Gloves
Instead of just buying any BMX gloves, you need to give this purchase some careful thought. BMX gloves come in various materials, and they are designed for different purposes. So, here are a few things you need to think about before you go out and buy a new pair of BMX gloves.
Material
The material of BMX gloves directly impacts how comfortable they are and how well they will perform. Gloves generally come in the following materials:
Polyester
Lyrca
Cotton
Microfiber
Polyester is ideal for reducing moisture and decreasing sweat build-up, especially on long rides, while microfiber is a good option for the winter months.
Many gloves are made from several materials to offer maximum performance, breathability, and moisture reduction.
Grip
Finding out how well BMX gloves grip is essential to ensure that you remain in complete control of your bike. This is especially important for racing or pulling off stunts.
Some gloves offer better grip than others. It would be best if you looked for BMX gloves that offer superior grip both in the palm area and also the fingertips. Having a strong grip with your gloves ensures that you don't hold onto the handlebar too tightly, which can impact performance and allow blisters to form.
Holding on too tight to the handlebar because you are wearing gloves that don't provide much grip can affect the tricks and stunts you want to pull off.
Palm Protection
Palm protection is another important thing to consider.
While you should have a good grip on your BMX gloves' palm section, it also needs to offer protection if you fall. We instinctively open our hands to cushion our falls, and without gloves, this can seriously damage our palms and fingers.
However, by wearing BMX gloves that have a high level of palm protection, you can safeguard your hands as much as possible and reduce the chances of cutting and scrapping ourselves from impacts.
Weather Protection
If you regularly cycle in less than ideal weather conditions or during the colder winter months, weather protection is something to consider.
Some BMX gloves don't provide much protection against the elements, and many are designed for maximum breathability. However, many gloves are tailormade to retain heat with thermal construction to keep your hands warm on a cold day.
This is important to ensure you can grip onto the handlebar properly as if your hands are cold; you will struggle to hold on tightly.
Sizing
Finally, you need to pay close attention to the sizing of your BMX gloves.
Wearing too-small gloves will be pretty uncomfortable after a while, and gloves that are too big for your hands won't provide the best grip and control.
Make sure you read the product description carefully, as the sizing is often a bit inconsistent with gloves, and the size you wear for one brand might not be the same for another.
I have found that BMX racing gloves tend to be quite consistent with their sizing, but for other types, ensure you check out the sizing guidelines before you buy.
Selection Criteria
A quick search will yield tons of gloves, and listing all the available gloves on the market isn't practical. This is why I have only chosen to list the top-performing BMX gloves for different purposes. To do this, I had to apply some criteria, which included:
Comfort – All the BMX gloves on my list offer an ideal comfort level, whether you are racing, dirt jumping, or pulling off tricks. They will ensure you won't feel like taking them off after a few minutes.
Performance – I have only listed BMX gloves that provide great performance, protection, and grip. Having an excellent grip ensures that you can worry about the type of BMX you are doing (racing, freestyling, etc.), and you won't need to focus on keeping control of the handlebar.
Durability – The gloves on my list are durable and won't tear, look disheveled, or need to be replaced after a few rides on your BMX.
Material – I have listed gloves in different materials as there isn't one material that is suited to all types of BMX riding.
Cost – Even though gloves aren't the most expensive pieces of kit you will buy, I have kept the cost of my picks low to suit all budgets.
6 Best BMX Gloves
ROCKBROS Mountain Bike Gloves – Best Overall BMX Gloves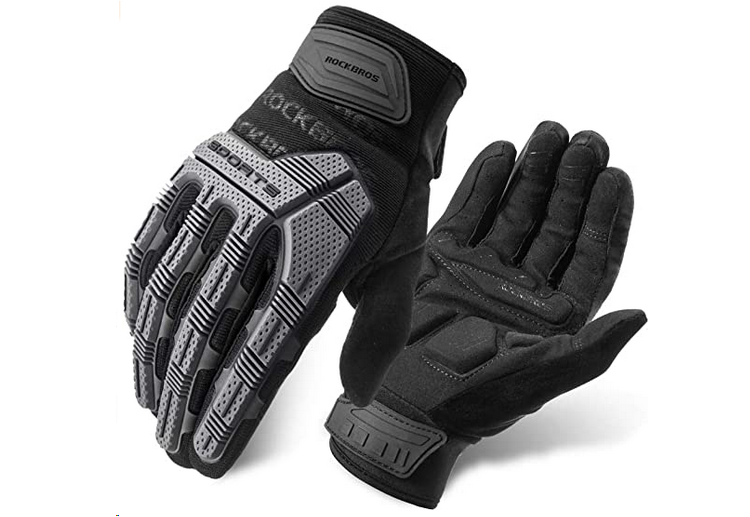 My number one choice for gloves is the ROCKBROS Mountain Bike Gloves.
For me, these gloves provide everything you need for various types of BMX and mountain biking, and they strike a perfect balance between performance and cost. The gloves are made from lycra and rubber, and there is a 6mm silica gel padding to add extra protection for your hands.
The materials offer a good level of breathability, and there are plenty of venting holes to help airflow and prevent moisture buildup, which can lead to blisters. A cool feature is that the fingertips work with touchscreens, so you don't even need to take these gloves off to use your cellphone quickly.
The strap could do with an upgrade as it isn't the most durable part of the glove. Some people have found that it can snap easily, but the gloves come with an excellent lifetime warranty should you run into any issues.
Overall, the OCKBROS Mountain Bike Gloves are ideal for BMX riding, and they offer brilliant protection against falls, impacts, or just shielding your hands from branches on off-road trails.
Pros
Offer complete protection for your hands
Provide breathability and comfort
Touchscreen-friendly, so you can use your cellphone
Don't cost a lot of money and have a lifetime warranty
Cons
The strap isn't that durable
Souke Sports Cycling Bike Gloves – Best Half-finger Gloves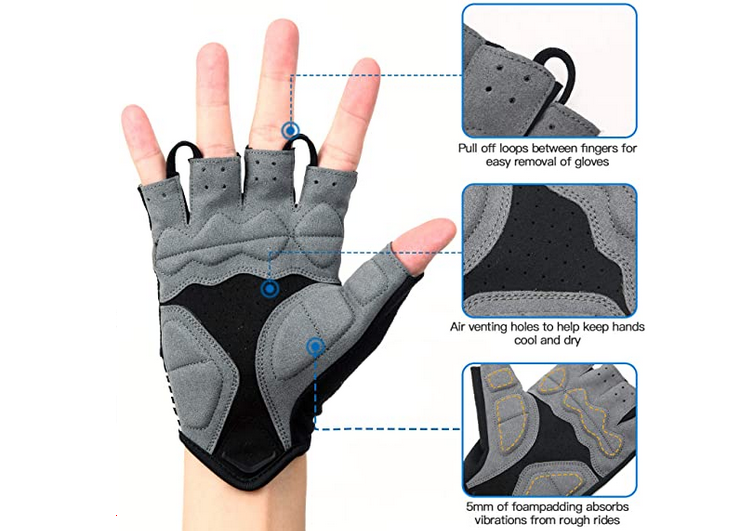 If half-finger gloves are more your thing, the Souke Sports Cycling Bike Gloves are an ideal choice.
While they don't offer complete finger protection, they do provide excellent breathability, so they would suit cycling in the warmer months. If your type of BMX riding isn't likely to see you fall off very often, these gloves would be a good option.
The material helps to keep moisture away from your hands to prevent blisters and also enhance grip and control. There is a 5mm shock padding in these gloves that help to absorb impacts and negate injuries if you fall, while the synthetic microfiber palm has anti-slip properties.
I don't have any real issues with these gloves aside from the fact that they are a half-finger option. If that is the style of gloves you want, then the Souke Sports Cycling Bike Gloves suit a range of BMX disciplines and offer comfort, breathability, and a good level of grip.
Pros
Very breathable and comfortable to wear
Decent protection with 5mm shock padding
Stylish half-finger design
Don't cost much money
Cons
They are a half-finger design, so might not suit everyone
ILM Steel Knuckle – Best for BMX Racing
I find that BMX racing often requires its own pair of gloves, and this is why I have included the ILM Steel Knuckle gloves on my list.
These gloves are perfect for offering a high level of protection when racing around a BMX track. They have a cotton design backed by an alloy steel section to ensure your hands are well-looked after, and the anti-collision protection adds a further defense.
The anti-slip properties will allow you to grip onto the handlebar with ease, and you can focus your mind on the race rather than holding on too tightly.
Like the ROCKBROS Mountain Bike Gloves, a good feature is that the forefinger has touchscreen capability, so you can use your smartphone without taking off your glove.
The gloves could be a bit more comfortable, but that is the trade-off for a highly functional and protective design.
Combined with a solid BMX helmet, these gloves will provide an excellent level of protection and performance for your BMX races.
Pros
Offer fantastic protection for your hands
Comes with an an alloy steel section
The forefinger is touchscreen compatible
Anti-slip and provides great grip
Cons
They gloves could be a bit more comfortable
COFIT Anti-Slip Cycling Gloves – Best Budget BMX Gloves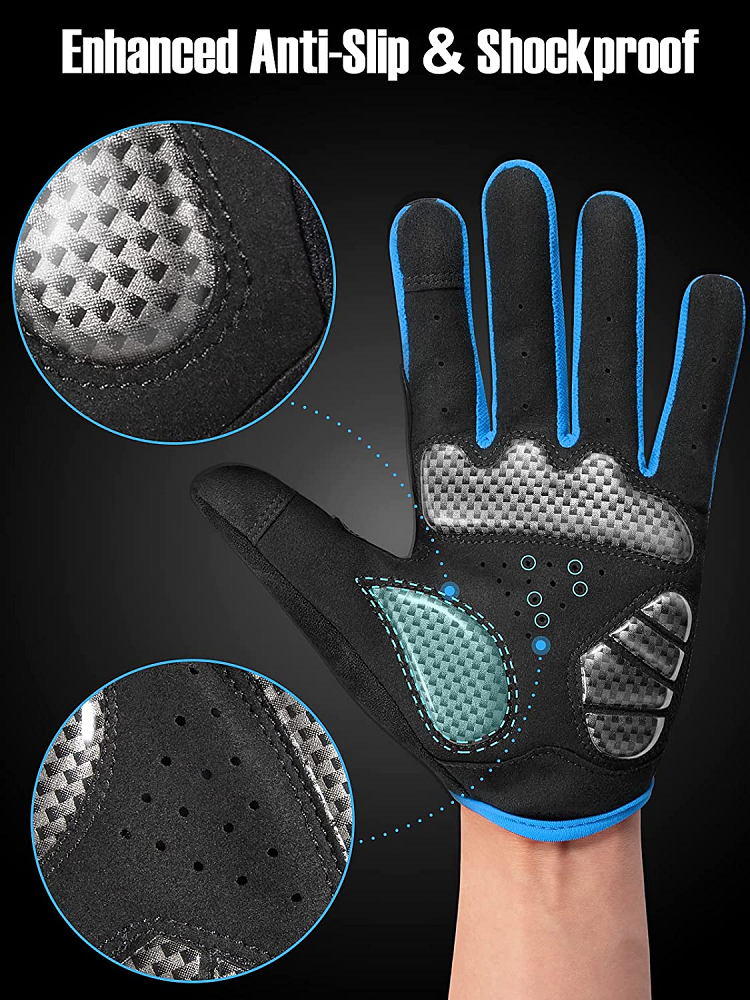 BMX gloves are pretty cheap compared to many other pieces of equipment. However, if you really don't have a lot of money to spend, the COFIT Anti-Slip Cycling Gloves are ideal.
These are the best budget gloves on the market, and even though they are available at a budget price, I still think they provide good performance.
Available in three colors (black or black with red or blue) and made from Lycra Spandex and Microfiber, these gloves provide a comfortable fit.
Grip is guaranteed with the 5mm anti-slip silica gel pads, and I love these gloves' stylish look. They also have touchscreen compatibility at the fingertips, which will allow you to use your phone without the hassle pff taking off the gloves.
The COFIT Anti-Slip Cycling Gloves don't offer the same high level of protection as many of the more expensive models, but these gloves will do the job for a fairly cheap cost, and they look good at the same time.
Pros
Solid budget-friendly choice
Touchscreen compatible
Available in three designs
Comfortable and offer good grip
Cons
Don't provide the same protection as other gloves
INBIKE Thermal Bike Gloves – Best Winter BMX Gloves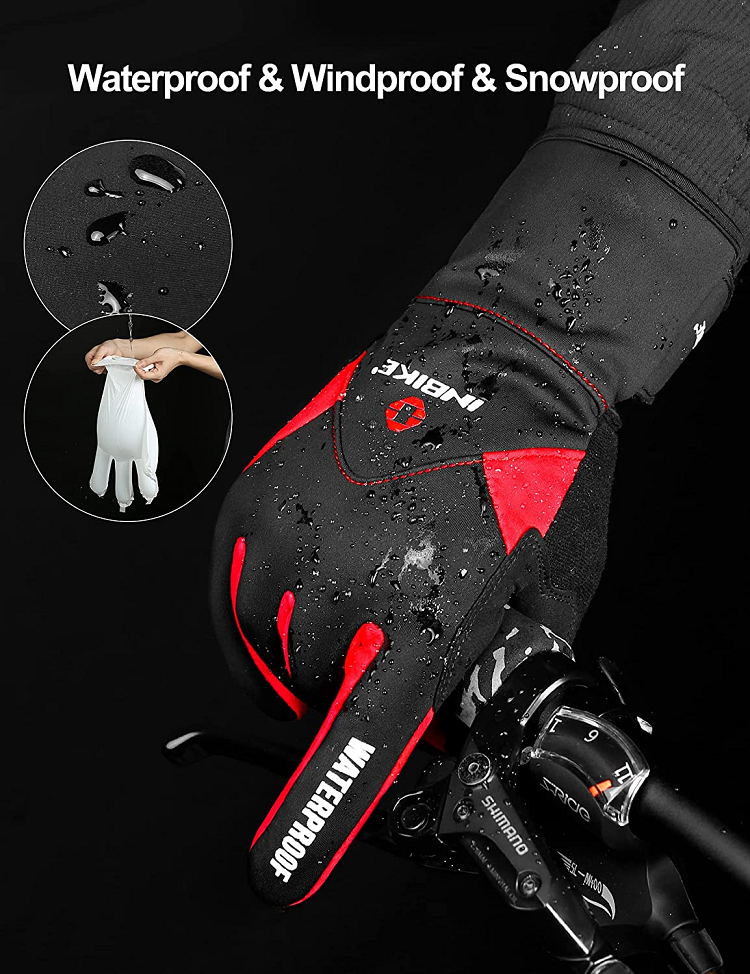 Unfortunately, we can't always cycle in beautiful weather, and riding in the colder winter months often requires a specific type of glove. This is why the INBIKE Thermal Bike Gloves are on my list as the top choice for winter.
Polyester isn't always the best material for winter gloves; however, I have found these gloves brilliant on colder days, primarily down to the inner fabric of polar fleece and insulating thermal lining.
These gloves do a great job of keeping your hands warm, allowing you to focus on your cycling, and helping to maintain a firm grip. There is also extra padding on the palms to enhance control.
The gloves have a reflective design that helps with cycling on darker nights, and they perform great in rain, hail, or snow.
You won't want to wear the INBIKE Thermal Bike Gloves during the warmer months as your hands will build up too much sweat, but for autumn and winter, they are an ideal option.
Pros
Offers excellent heat retention
Reflective and provide good grip
Extra padding on the palms
Cons
These gloves aren't ideal for spring or summer cycling
Saints of Speed BMX Gloves – Best BMX Gloves with Different Styles
So far, I have mainly focused on performance, which is the most important thing with gloves, but what about style?
The Saints of Speed BMX Gloves are the option to choose if you want to make a statement with the look of your gloves. WIth various outlandish designs ranging from graffiti to slices of pizza, I really like the quirkiness and uniqueness of these gloves.
The Saints of Speed gloves also provide good performance. They have decent padding on the palms, and the grip is good, while they are touchscreen-friendly as well.
The gloves are pretty thin, so you won't get the same advanced level of protection as you would with other models on my list. However, for a stylish alternative that still provides decent performance, the Saints of Speed BMX Gloves are certainly worth looking at.
Pros
Available in six unique styles
Good level of performance
Fingertips are touchscreen-friendly
Cons
They don't offer as much protection as other gloves
Frequently Asked Questions
Question: What Do BMX Gloves Do?
Answer: BMX gloves offer protection to your hands and fingers, especially if you fall. They also help with maintaining grip and control of your bike.
Question: Do BMX Gloves Help with Pulling Off Stunts?
Answer: Yes. BMX gloves help you enhance your grip on the handlebar, which can increase performance, especially when it comes to pulling off freestyle stunts and tricks.
Question: Can I Use My Smartphone with BMX Gloves?
Answer: Sometimes. Many pairs of gloves are touchscreen-friendly, which means you can use your fingertips to operate your phone without taking the gloves off. If this is a feature you need, make sure to read the product description carefully.
Question: What is the Best Material for BMX Gloves?
Answer: It depends. Many people prefer Polyester due to its breathability and moisture-reducing properties; however, lycra and nylon are also suitable materials. A thermal inner material is better for cold weather gloves to keep your hands warm.
Question: Do I Need to Wear BMX Gloves?
Answer: Yes. If you fall off your bike and aren't wearing gloves that provide good protection, you risk seriously injuring your hands. gloves reduce the impact of shocks and help reduce the chances of cuts and scrapes.
Question: Are BMX Gloves Expensive to Buy?
Answer: Not really. Compared to many other pieces of BMX gear and components, BMX gloves are pretty cheap. Many budget pairs are available, but even the top-performing gloves won't set you back a lot of money.
My Verdict: What is the Best Pair of BMX Gloves?
My top pick for BMX gloves is the ROCKBROS Mountain Bike Gloves.
These gloves have everything you need to ensure that your hands are well-protected and you can maintain good grip and control of your bike.
With breathable and durable materials, including a 6mm silica gel padding, even if you fall off your BMX bike, these gloves will lessen the impact of any injuries.
They work great for all types of BMX, and the touchscreen-friendly fingertips are a nice addition to an all-round fantastic pair of cycling gloves.