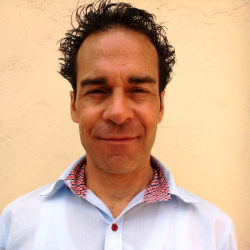 Latest posts by Douglas Bloom
(see all)
BMX riding started in the early 1970s. This was after kids began taking on dirt tracks to mimic motocross races on their bikes. This culture grew and the demand for such bikes reached the development and design team. In the end, it led to the invention of street and freestyle BMX bikes.
I did research by consulting and interviewing several parties. They included BMX owners, parent(s) of the bike's owners, enthusiasts, and fans. From my research, I summarized the major points to create this article. Take your time and read on to learn more about BMX bikes.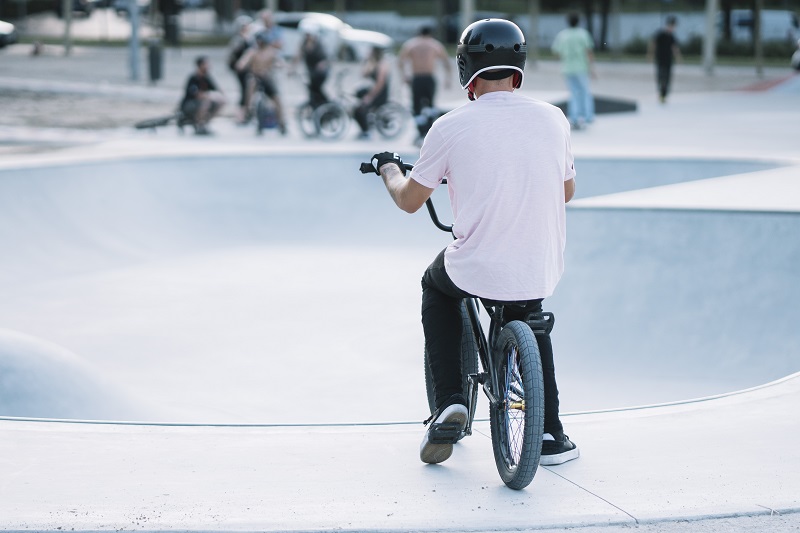 Bottom Line Up Front
Redline MX series is the best BMX bike for beginners or riders who want to refresh their BMX riding skills. It's not only affordable but also durable. For riders who prefer old generation BMX go for Schwinn Predator Team 24". It features 1980s graphic design themes.
On the other hand, if you are looking for a kid's BMX, then Elite BMX Stealth is your best choice. This mid-entry bike features 36-spoke pavement-ready tires and 20" wheels. Its great appearance makes it a popular option for kids.
I recommend the Haro Downtown 26" BMX for tall riders or fathers who want to cruise with their families. Haro Downtown features an adjustable Haro padded seat and a fully sealed internal headset with the Mid-BB. These enable you to perform any trick you'd like easily.
Top BMX Bikes
Are you stuck when it comes to choosing the best BMX bike? If you are, then I got you covered. In this review, I have summarized the information needed to ensure you get the BMX bike that meets your preferences. Here we go!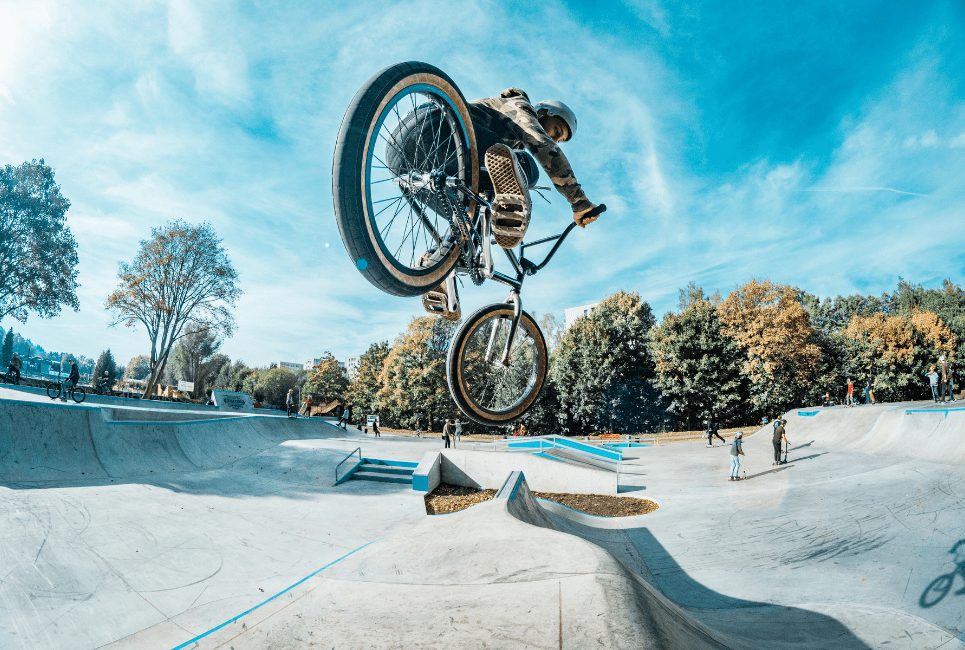 Redline is a globally renowned race BMX brand that produces MX and Proline models of BMX bikes. MX bikes are available in 6 different sizes. Take note because it's a solid choice the bike comes in Mini and Junior versions.
If you want to take your BMX skills to the next level, or you are new to BMX riding, then MX Redline is a great choice. One benefit is that the MX is pocket-friendly. This bike will ensure you advance your skills to the next level.
It features a 6061 Alloy frame that has an integrated head tube. The 3-piece crankset ensures the bike rides efficiently. To handle rough landings and daily abuse, it has a steel-inforced fork. The shiny black design with bright yellow accents gives the bike a "stealthy" appearance.
The Vee Speedster 24-inch tires are designed to offer versatility. It means you can ride this cruiser in both hand-packed and pavement terrains. Take note that the tires feature diamond-cut traction side knobs. These help handle speedy navigation and tight corners with precision. They also have a center-strip design to increase your speed and keep your ride smooth.
Tektro BX310 Linear brakes offer you ample stopping power. When it comes to braking, the V-brakes have a linear-pull lever. The result is a responsive ride both on and off track.
For precision riding and ultimate control, MX Redline features RL race aluminum pedals and RL Hex grips. Check out the pros and cons below to help you understand it better.
Related read: Comprehensive Redline Brand Review.
Pros
RL race aluminum pedals and Hex grips
Available in 6 different sizes
It features a 6061 Alloy frame with an integrated head
Tektro BX310 Linear brakes
3-piece crankset
Cons
Not best for beginners
Only ideal for short rides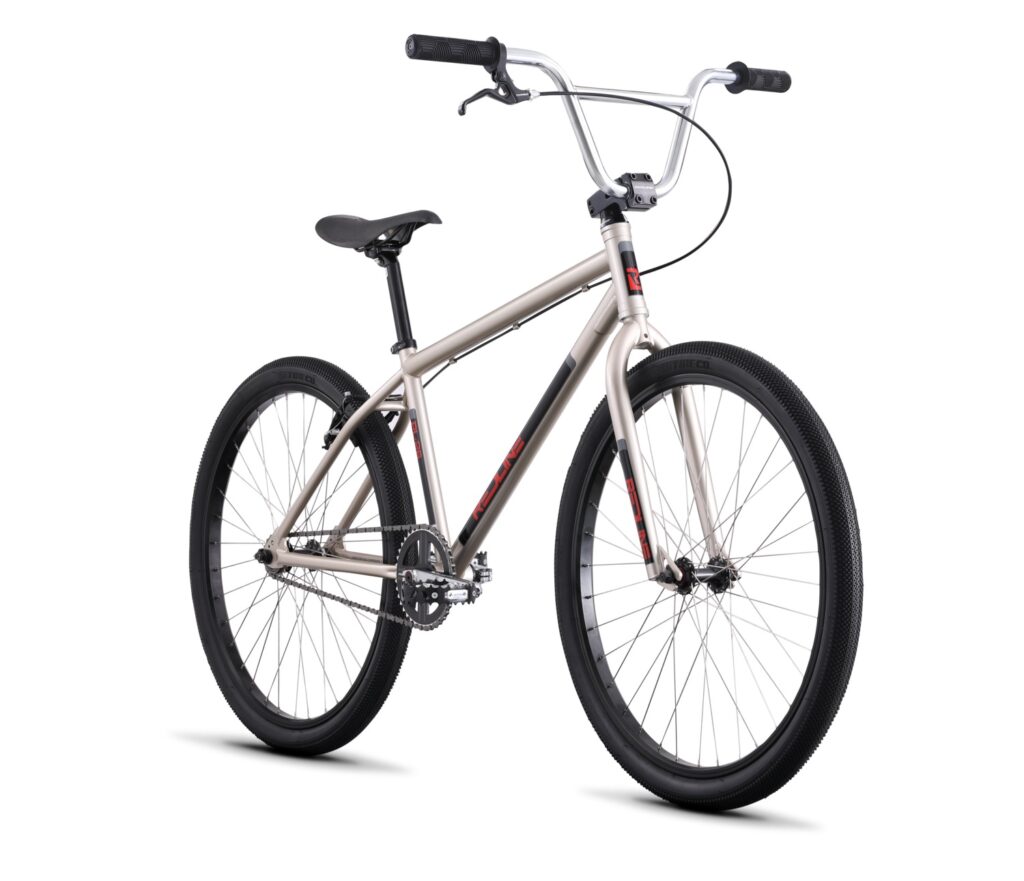 Redline PL 26" has a traditional mix of BMX materials. It rolls on large 26-inch wheels and 26 x 2-inch Vee Speedster tires. They enable you to ride smoothly on any terrain. The 180 MM cranks with a polished Chromo finish drive the single 17t rear cog. Instead of a disc, Redline PL 26" BMX bike has a single V-brake at the rear.
This bike also comes with a Chromoly handlebar featuring a 7.5" rise, 4-degrees of upsweep, and a 10-degree back sweep. That's why it's easy to ride and control.
It has a Chromo fork and a 6062 Alloy frame with disc tabs. The aluminum top cap has a sealed integrated headset measuring 1-1/8-inches. Take note that the front hub features an aluminum disc with a nutted axle. As for the rear hub, it has an aluminum disc with a cassette.
This retro cruiser features a classic BMX style that's hard to mistake. One of the setbacks facing this bike is it's not a good choice if you prefer bar spins or any other daring street-style trick.
Pros
26 x 2-inch Vee Speedster tires with Tektro mechanical disc
Single V-brake
26-inch wheels
It features a Chromoly handlebar
Sealed integrated headset 1-1/8-inch
Cons
Not good for riders who prefer bar spins or any other daring street trick
Difficult to remove the tires from the rim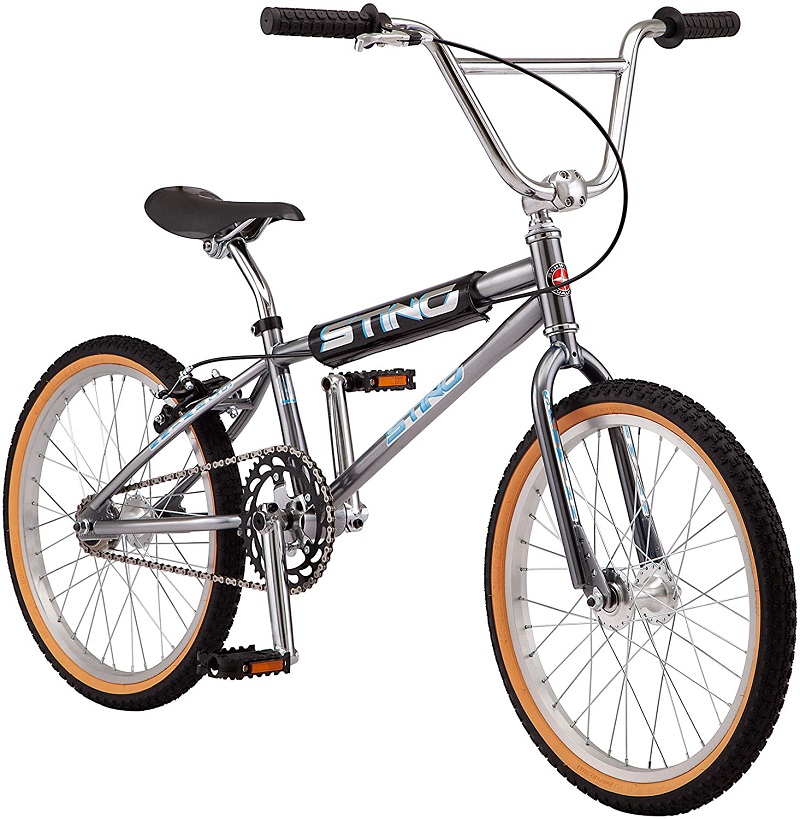 Schwinn Predator is a legendary 1983 BMX bike. Schwinn, an American-based bike brand, has revived its classic BMX with a Team 24" version. Industrial designers and product planners have made this BMX bike model true to the original 1980s graphic design themes.
This bike features a polished steel frame with Chromo details. Schwinn has equipped Predator with rattrap pedals and tan wall tires. These offer an interesting blend of style and functionality. The shiny Chromo finishing with 1980s graphics and logos makes Schwinn Predator Team 24" BMX a preferred choice by older riders.
It rolls on 24-inch wheels that are a sensible size for its class. The good thing about Predator is the pocket-friendly price. On the downside, it lacks a quick-release seat post clamp. This means you can't adjust the seat height on the go.
Pros
Shiny Chromo finishing
Budget-friendly
24-inch wheels
Polished steel frame
It features rattrap pedals
Cons
Lacks a quick-release seat post clamp
Not ideal for long rides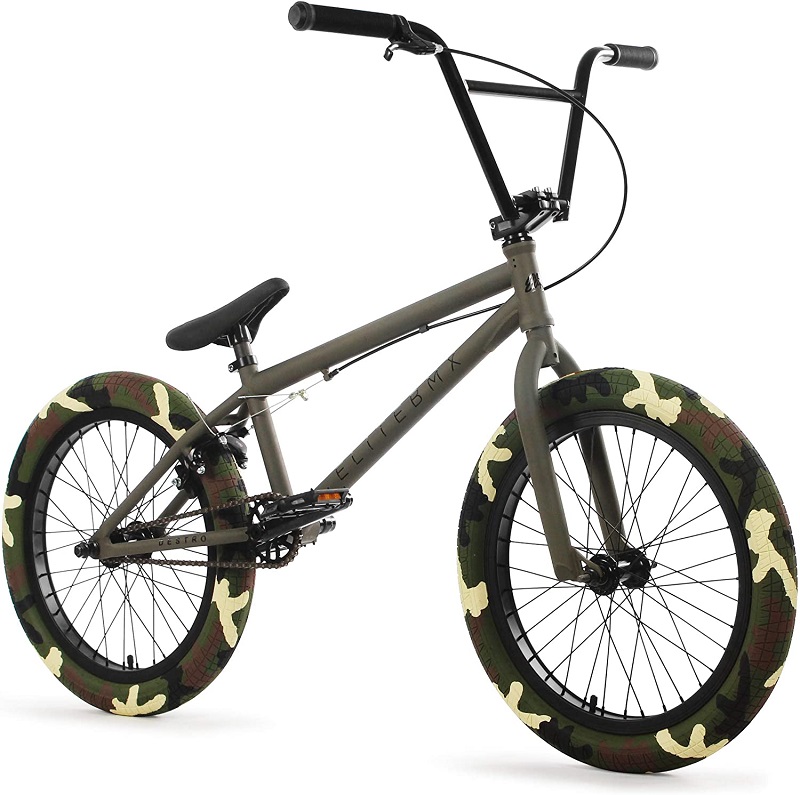 Would you like a BMX bike with excellent features? If so, consider this BMX bike. The Elite BMX Destro comes with a 3-piece crank setup and a sturdy feel. These features keep your body centered while pedaling. It features a short crank at 170 MM. As a result, this allows the wheelbase to be slightly bigger offering more leverage for stunts such as bunny hopping.
The fork is made of Cr-Mo while the frame features hi-tensile steel. That said, Elite BMX Destro is not only light but it's also excellent for speeding and jumping curbs. It's one of the few BMX bikes with an all-over smooth ride.
The Tektro Alloy U-brake makes it easy for you to stop abruptly and change direction if need be. Get this bike if you want a mid-level BMX that's aesthetically pleasing.
Pros
Budget-friendly
3-piece crank setup
It has a sturdy feel
Hi-tensile steel frame and Cr-Mo fork
Excellent for speed and jumping curbs
Cons
Not best for beginners
There are reported cases of missing parts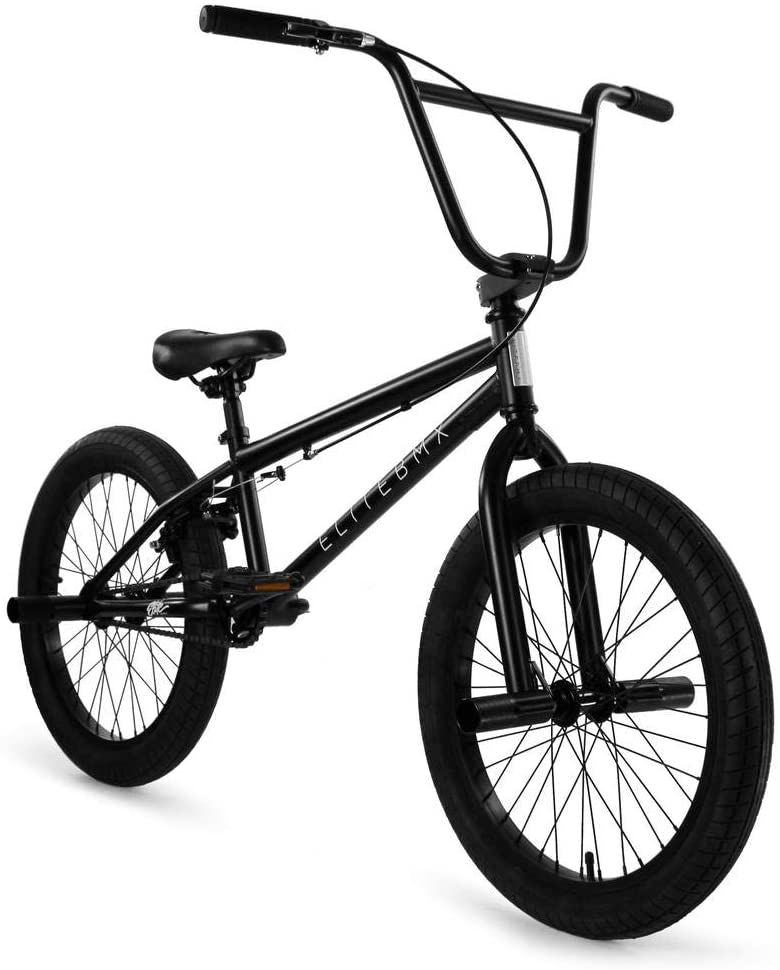 Elite BMX Stealth is a mid-entry but sturdy BMX bike. You can ride it in the park, on dirt, and the streets. It comes with 36-spoke pavement-ready tires combined with 20-inch wheels. These make it a great BMX bike for freestyling meaning you can practice bunny hops and grinding tricks.
Apart from being an exceptional BMX bike for beginners, Elite Stealth features a price that's affordable for an entry bike. Handlebars are made of hi-tensile steel which helps minimize stress points. As a result, this BMX bike is rugged and durable, which is good for missed landings. Another advantage is you can also throw it during mid-air tricks.
That said, there are 6 different colors that you can choose from. Take note that the beautiful appearance makes the Elite BMX Stealth a great choice for kids.
Pros
It features 36-spoke pavement-ready tires
20-inch wheels
It comes with a pair of pegs
Best for kids/beginners
Hi-tensile steel handlebar
Cons
Not best for experienced riders
The seat is designed for short rides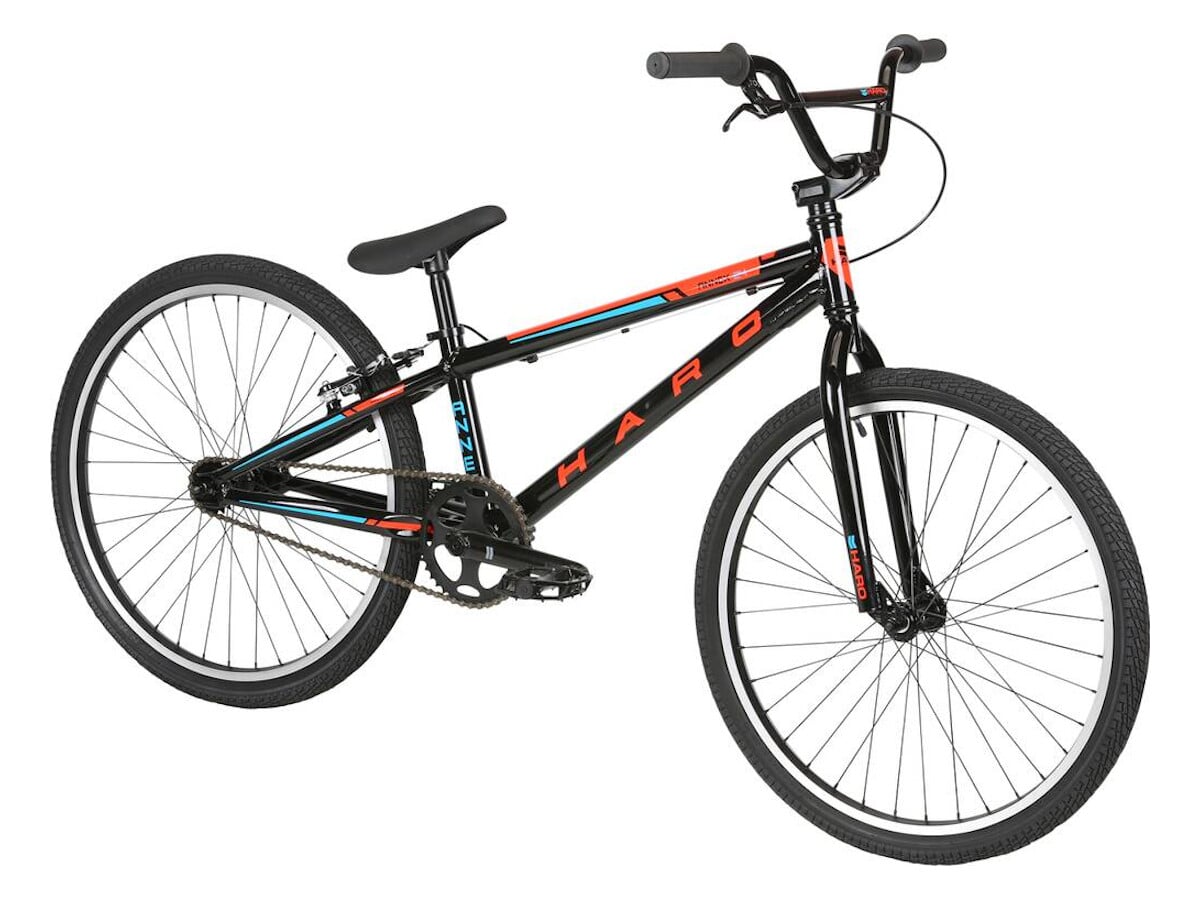 Are you looking for a great entry-level Race BMX bike? If yes, then Haro Annex 24" BMX is an excellent choice. It comes with a geometry that offers extra room for cyclists that prefer a short rear end.
Compared to bikes with a 20" inch wheel, this 24" BMX bike is more stable. The alloy bars are securely attached to the Haro alloy front load stem to ensure optimum control at any speed. Additionally, the stem connects the alloy bars to the Chromoly forks.
Keep in mind that this bike uses lightweight materials that help increase speed. As an entry-level BMX bike, Haro Annex 24" features everything you may need in BMX racing.
Pros
Comfortable geometry
It comes with a 1-1/8" Chromoly fork
Light
24" wheels
Best for beginners
Cons
Not best for professional riders
The seat is not easily adjustable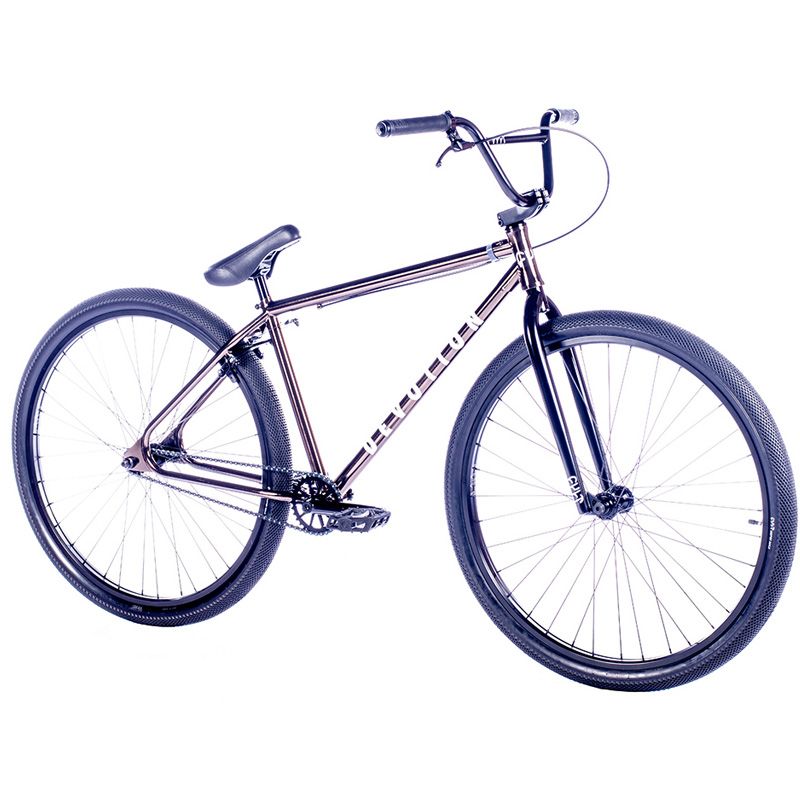 Look no further than Devolution if you are thinking of taking your BMX racing to the next level. Cult Devotion 26" BMX comes with 100% Chromoly tubing on the looptail frame, bar, and fork. It's an exceptional bike for riders who like to do tricks and have a comfortable cruising posture.
This high-end BMX bike is not only durable but also has a broad range of aftermarket quality parts. It features a sealed front hub, headset, and 10t cassette rear hub. Cult Devotion is also fitted with 3-piece 175 MM Chromoly cranks featuring a sealed Mid-BB. The 26-inch wheels offer a comfortable ride without sacrificing too much of that BMX feel.
The good thing is that the 990 U-Brake system is removable. In case it's faulty you can easily remove and replace it with a new one. If you are after a chilled ride or looking for a BMX bike for commuting to work, Cult Devotion 26" BMX is a good option.
Check out our full Cult BMX bike guide.
Pros
100% Chromoly tubing on the looptail frame, bar, and fork
Strong and durable
It features a sealed front hub, headset, and 10t cassette rear hub
3-piece 175 MM Chromoly cranks with a sealed Mid-BB
Comfortable ride
Cons
Pricey
Difficult to assemble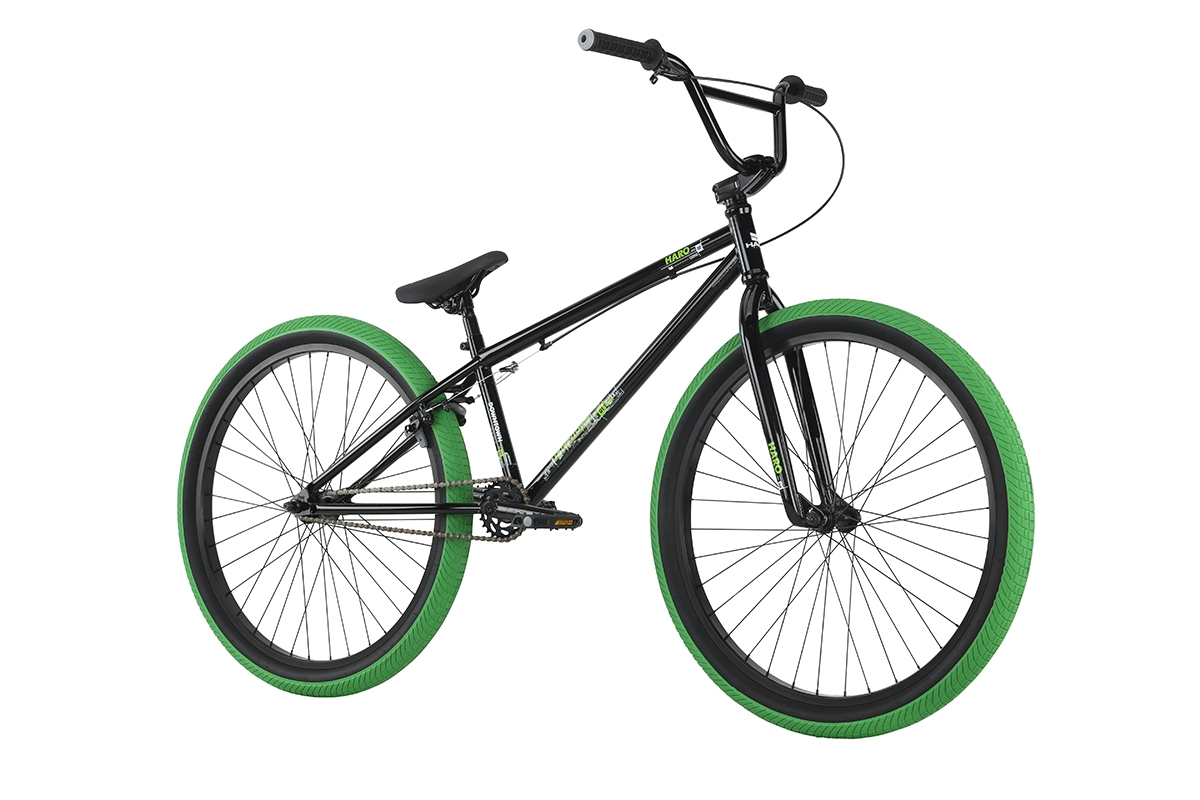 This is a bike for fathers who want to cruise with their family meaning it's also suitable for tall riders. It comes with a hi-tensile 26" freestyle frame featuring an integrated head tube.
To offer a comfortable cruising position, Haro Downtown features a fully adjustable Haro padded seat. This means that you can perform all the tricks that you like without compromising your comfort. The fully sealed internal headset with a Mid-BB ensures the bike rides efficiently
Even though it's comfortable for daily commuting, this bike is also suitable for freestyle riding. The beautiful finish makes it appealing and eye-catching. It's a great BMX bike for intermediate riders as well as a quality upgrade for beginners.
Pros
Best for beginners and tall riders
It features a hi-tensile 26" freestyle frame with an integrated head tube
Fully adjustable Haro padded seat
Fully sealed internal headset and Mid-BB
Beautiful finish
Cons
Not budget-friendly
Parts are not easily available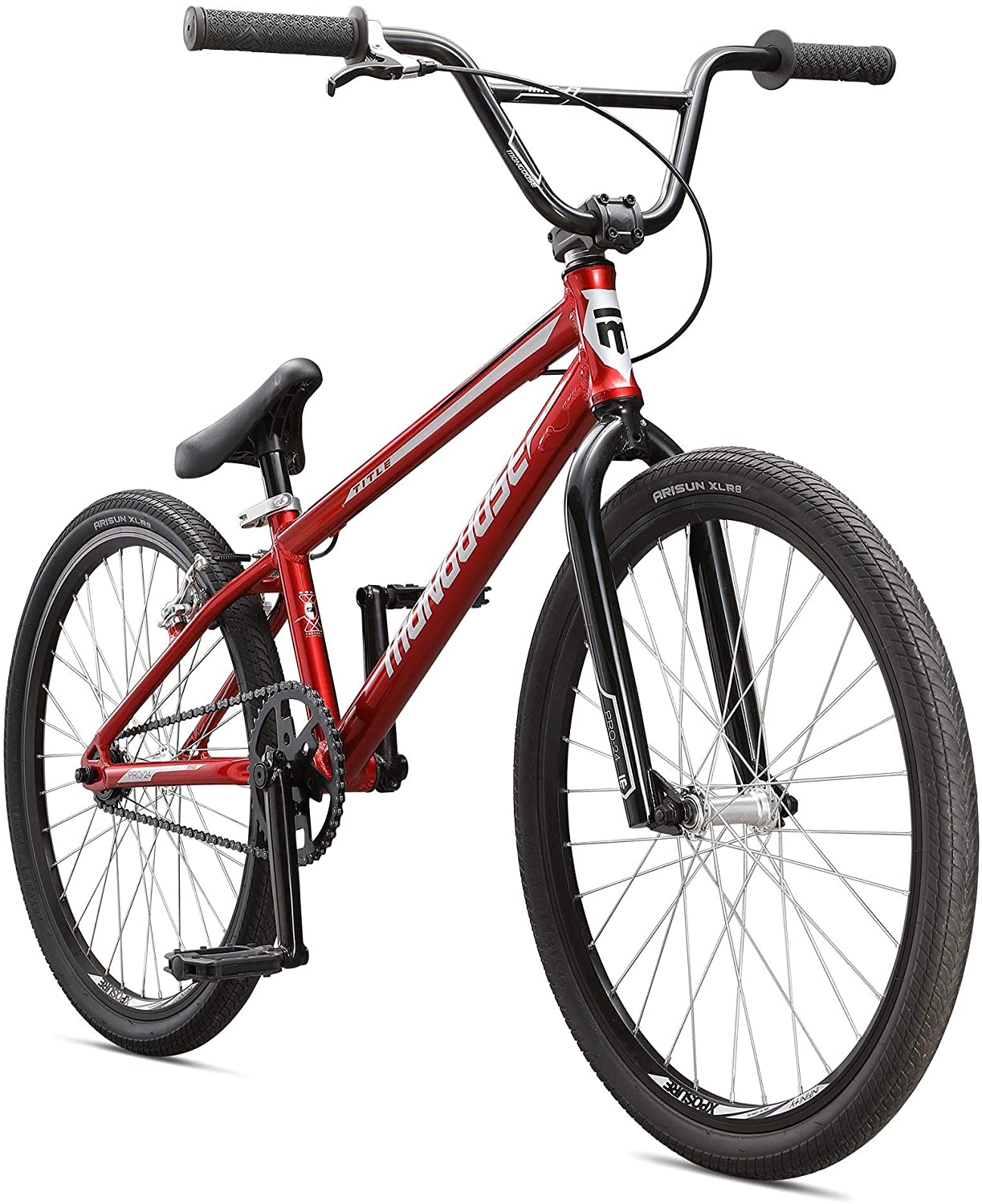 Mongoose BMX bikes are designed and built for speed. The good thing about Mongoose Title 24" BMX is that it can handle the biggest bench drops on the tracks. The ergonomic design with an aluminum frame makes the bike light. You'll also notice that the horizontally adjustable rear dropout enables you to vary the wheelbase slightly. As a result, it becomes easier to account for chain stretch.
Mongoose doesn't come with a disc brake. Instead, to keep its Title 24 at a fair price point, it features a traditional linear-pull V-brake. This BMX also has fast-rolling Arisun XLR8 24 x 1.75-inch tires. What you'll like about this BMX bike is the responsiveness it offers when rounding corners. You only need to clip, apex, and push into that first pedal stroke.
The 3-piece crankset and the unique geometry illustrate Mongoose's BMX legacy. This is why you shouldn't look further if you seek a great multipurpose adult-spec BMX bike on a budget.
Pros
Aluminum frame
Horizontally adjustable rear dropout
Traditional linear-pull V-brake
Fast-rolling Arisun XLR8 24×1.75-inch tires
Unique geometry with 3-piece crankset
Cons
Lacks disc brakes
Not best for kids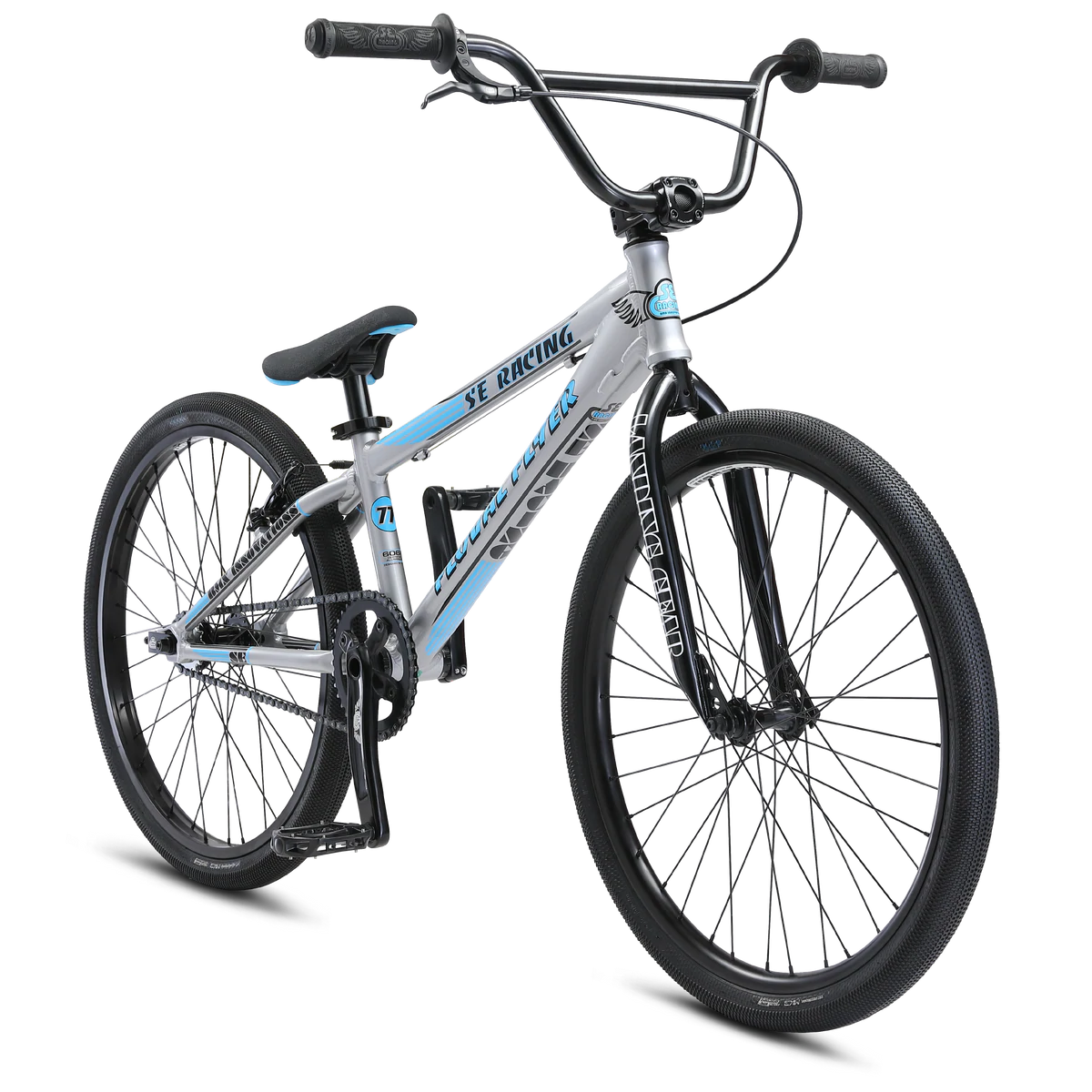 Are you in search of a budget-friendly lightweight BMX that is designed for speed? If yes, then get the Floval Flyer 24" BMX bike. This race-ready bike features an oversized head tube junction. It is a clear indication that it's made of aluminum and not steel.
It has a bi-oval down tube with tapered rear triangle stays that increase the stiffness. The 2-piece crankset rotates on a 24 MM hollow spindle making the ride smooth. That said, Floval Flyer rolls on 24-inch Vee Tire Co MK3s which feature tread patterns designed for tough terrains. This means you are assured of increased rolling resistance.
This bike is light (23.5 lbs.) with an advanced alloy construction featuring a Chromoly fork. With all these features, SE Floval Flyer 24" BMX is an alloy bike that will make you fly.
Pros
Advanced alloy construction
Oversized head tube junction
It features a bi-oval down tube
Light (23.4 lbs.)
Rolls on 24-inch Vee Tire Co MK3s
Cons
The 2 alloy main triangles are an issue for BMX purists
3-piece cranks would be better than a 2-piece
BMX Bikes Buying Guide
If you want to be a smart customer, you should ensure that you familiarize yourself with the properties of the product you intend to buy. I have highlighted for you some of the important factors you need to be aware of as you buy your BMX bike. They are:
Build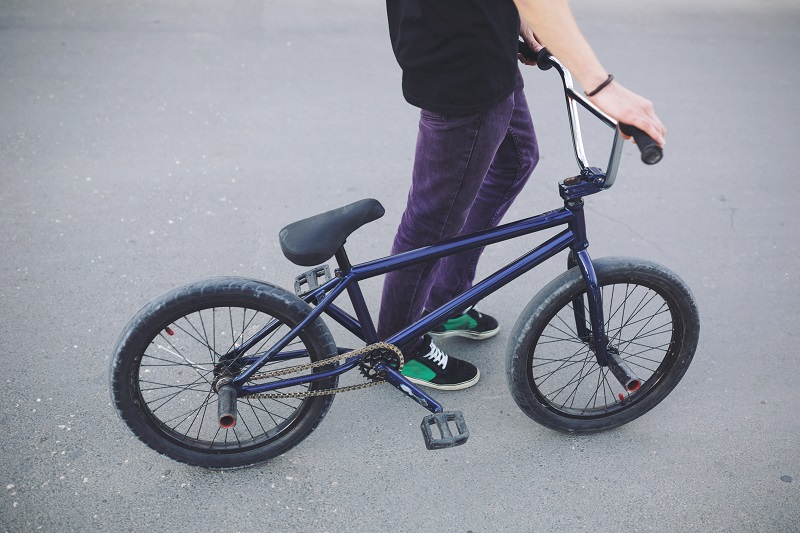 The low seat height is a notable feature of BMX bikes. It's ideal for freestyle and street riders since it protects their vital body parts when performing stunts and landing jumps. Additionally, when carrying out "no-handed" tricks, it enables you to grip the seat with your legs or thighs.
Keep in mind that most BMX races are short. With this bike, you can stand on your pedals most of the time when performing tricks. Modern BMXs don't use suspensions, unlike mountain bikes. For maximum thrust and power to flow through jumps and whoops, riders need to be rigid.
Size
Even though BMX bikes can be ridden by anyone, the standard wheel size stays the same. Someone may ask why the tiny 20" wheels? Another will ask why the compact frame? Based on the history of BMX, the first bikes were modified by kids who were emulating their motocross heroes.
With time it was discovered that small wheels and frames help keep these bikes light and maneuverable. Additionally, the small frames not only increase the agility of these bikes but are also easy to launch and throw around. The good thing about BMX bikes is that they feature wheels from 12" to 29". So anyone can start BMX riding irrespective of their size.
Frame Materials
BMX bike frames are made of various materials. Each one of them features its unique properties.
Steel
This was the original material used to make BMX bikes. To date, it's still the most popular material for freestyle BMX bikes. There are 2 distinct types of steel.
Chromoly steel is the preferred choice due to its pliability and compliance. It's good for bikes designed to take big hits. It comes with light and thin tubing that doesn't compromise strength. That said, Chromoly tubes come with reinforcement at their joints and ends.
The lightweight build offers superior acceleration and performance. Bikes featuring Chromoly have a high-stress rating. This results in improved durability and the ability to withstand severe impacts and abuse.
Hi-tensile is the second type of steel. It's used to make lower-cost frames for beginner BMX bikes. However, compared to Chromoly, it's heavier and more rigid. Hi-tensile frames are good at performing tricks at a pro level. This is because they will break after a short period. That's why it is the best material for kids and beginners who want a bike on a budget.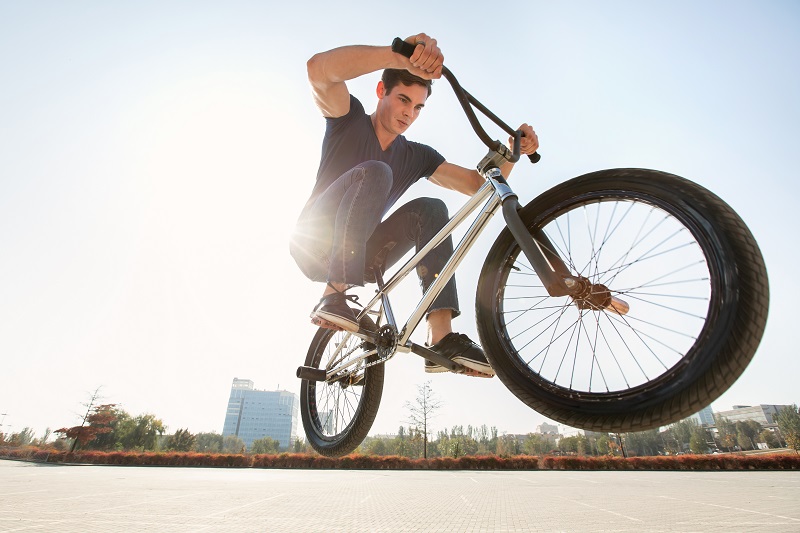 Aluminum
Due to its lightweight and stiff nature, most Race BMX bikes are made of aluminum. The material is strong and capable of bearing the stresses of landing track jumps. Compared to Chromoly steel, it has a lower stress rating.
That's why it's less suited to street and freestyle riding where big hits are common. They may lead to cracking of the aluminum frame. To reduce vibrations and absorb impact on landing better, Race BMX bikes feature Chromoly or carbon fiber forks.
Carbon Fiber
In the BMX world, carbon fiber is relatively rare. It's used in the manufacture of high-end Race BMX bikes. Apart from being light and strong, it doesn't rust. It's also stiff and less responsive compared to Chromoly steel. This makes it suitable for racing BMX but not freestyle. However, most riders don't prefer this material since they fear it can snap anytime.
BMX Riding Styles
There are distinct schools of BMX bike riding and they all require a certain type of BMX bike. An all-rounder BMX is great for small kids and beginners since they aren't into competitive racing.
However, it's wise to buy a purpose-built BMX bike for dedicated racing or for performing challenging tricks. I have provided the BMX disciplines together with their suitable BMX bikes for you below.
Racing
BMX racing is also known as "true BMX". Since it's among the original forms of BMX racing, it was heavily influenced by motocross competition. The races are done on short purpose-built tracks measuring about 900 – 1,300 feet in length. They feature a series of "triples and doubles", berms, and jumps.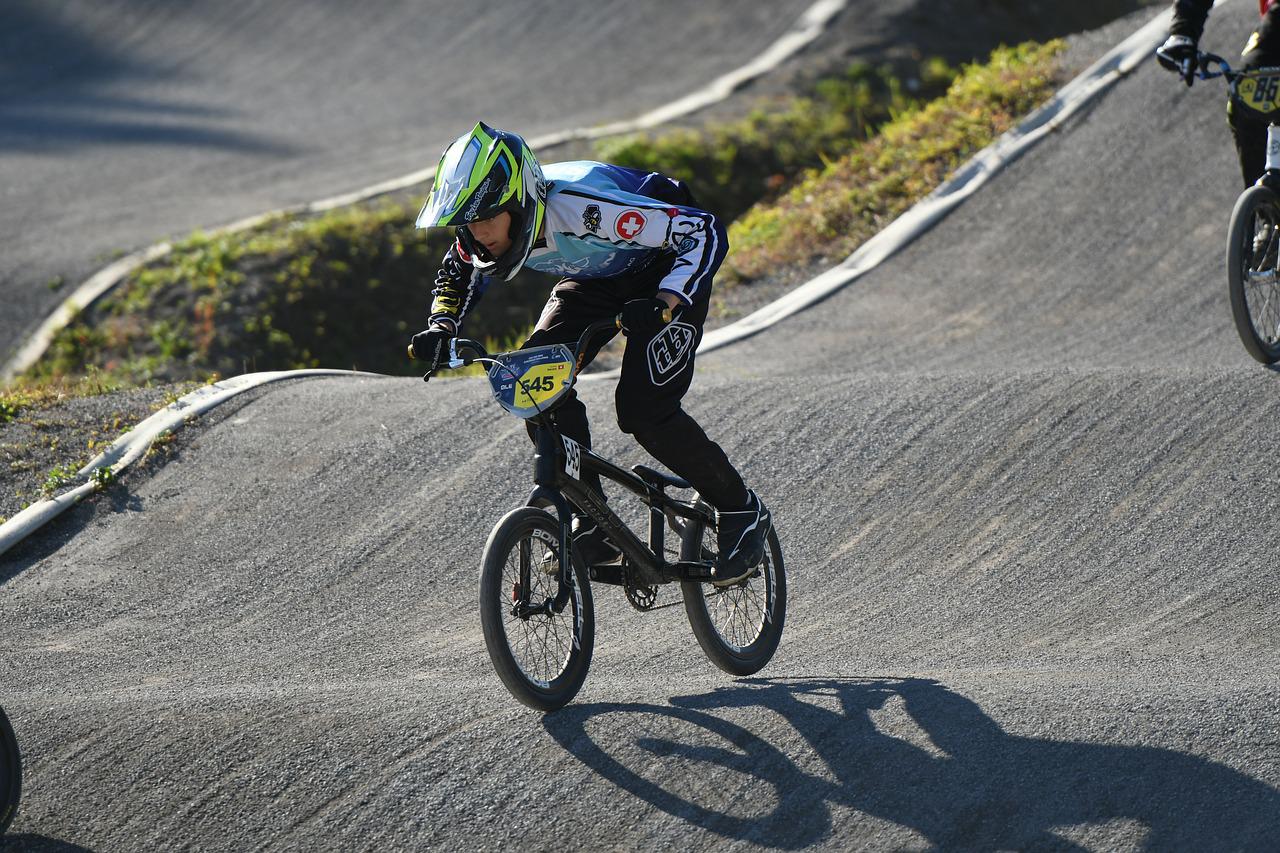 Race BMX bikes are made of aluminum which makes them light. They don't have pegs or accessories, instead, they use a single rear brake. They are available in a range of size categories depending on rider age and height. These sizes include micro, mini, junior, expert, and pro.
Freestyle Bikes
If you like freestyle riding then you need a sturdy bike. Freestyle riding features 5 categories.
Street riding is done in public urban areas. Here riders perform tricks, jumps, and grinds. Compared to other BMX disciplines, it's less organized and competitive.
Street BMX bikes feature shorter wheelbases, steeper seats, and head angles. These features make them more agile for trick-riding. However, they are less steady at high speeds or when landing big-air moves.
Trails and Dirt Jumping
Trail riding entails performing tricks that require considerable risk and skill. It involves fluid movement through a series of dirt jumps.
These bikes have a longer, more stable wheelbase than a flatland or street BMX. Keep in mind that you can fit them with a Gyro TM detangler. This allows for bar spins and tail whips among other tricks
Vert BMX Riding
This type of BMX riding involves big-air moves that are performed in a half-pipe. Take note that momentum helps achieve high speeds. Vert bikes come with longer chainstays that contribute to a longer wheelbase with increased stability. They have 2 or 4 pegs that enable riders to stall on or grind along coping.
Park BMX Riding
Park refers to skate park riding. Currently, most parks are designed to accommodate not only mountain bikers but also BMX riders. Outdoor parks are made of concrete while indoor venues are made of wood. Parks feature various kinds of jumps, rails, coping, quarter-pipes, pools, and bowls.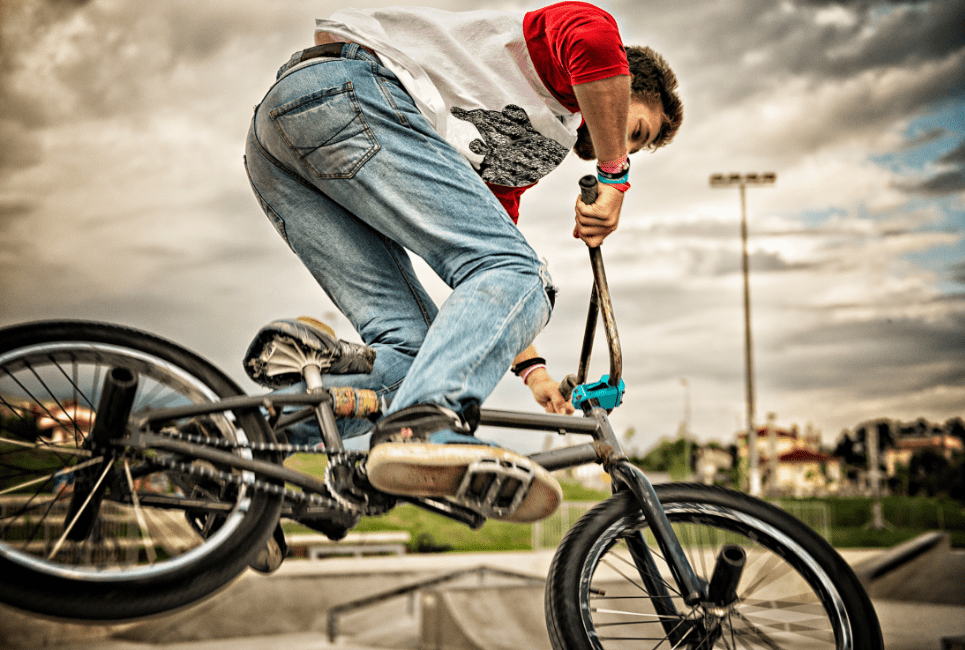 Flatland
Flatland is one of the most distinct BMX disciplines. It's done on a level surface involving highly technical tricks. Here the rider manipulates the bike in every conceivable way allowed by their imagination.
Flatland BMX bikes feature a taller seat post compared to others. They have a 0° fork offset that provides a direct line through the head tube connecting the fork axle.
BMX Bikes FAQs
Question: What Distinguishes BMX Bikes From Other Bikes?
Answer: BMX bikes come with 20-inch wheels and 2 or 4-piece handlebars. They also feature long cranks, small seats, and strong rear hand brakes. BMX frames are not only sturdy but also light.
Question: Do BMX Bikes Have Brakes?
Answer: Yes they have. However, most MBX bikes come with just a rear brake. Freestyle BMX riders sometimes disable their brakes. This is to prevent interference with the tricks and stunts they want to perform.
Question: Which Is The Best BMX Bike For Pros?
Answer: The best BMX bike for pros should have a top tube with a length of 20.5 to 22 inches. For shorter riders and kids, a top tube of 18 to 20 inches is okay. Don't forget that for a Pro-size bike, the top tube needs to be 20.5 to 21 inches.
Question: Can A BMX Bike Be Ridden Like A Normal Bike?
Answer: To some extent, it can. However, even though you can commute on a BMX bike, it's impractical to do so for a long distance. There are several reasons why a BMX bike can't ride like a normal bike.

They include:

• Uncomfortable riding position
• Lack of rack and fender mounts
• Limited braking power
• Overly snappy handling
• Few gears
Bottom Line
Haro Downtown 26" BMX is a good option for tall riders or fathers who want to go out riding with their families. It features a sealed internal headset, Mid-BB, and a fully adjustable seat. Elite BMX Stealth is an excellent choice for kids who want to try out BMX riding. The mid-entry BMX comes with 36-spoke pavement-ready tires and 20" wheels.
I recommend the Redline MX series for beginners or riders who want to refresh their BMX riding skills. Starting a new hobby requires an affordable product like this BMX bike. Schwinn Predator Team 24" is suitable for riders who prefer riding an old-generation BMX bike. It comes with 1980s graphic design logos and graphics.
If you didn't find any BMX you like above, use our buying guide. It will help you make an informed decision before you buy a BMX bike
Continue reading related BMX bike reviews and guides: