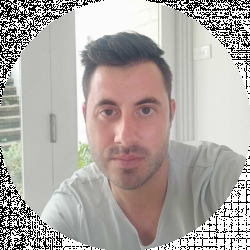 Latest posts by David Borgogni
(see all)
Buying a new set of BMX pedals can improve your bike's grip, performance, and look. In our guide on how to find the best BMX pedals, we will review the top models on the market.
We'll also look at why you should replace your existing pedals, the things you need to consider before making a purchase, and we have included some answers to common questions at the end.
If you want a brief overview of the pedals that have made our list, have a look at the table below.
At a Glance: 7 of the Best BMX Pedals in 2022
| | | | | |
| --- | --- | --- | --- | --- |
| Pedals | Best for… | Material | Thread size | More Info |
| FOOKER MTB Pedals Mountain Bike Pedals | Best overall Pedals | Nylon | 9/16 | Find out more |
| Imrider Mountain Bike Pedal Lightweight | Best lightweight pedals | Nylon | 9/16 | Find out more |
| MZYRH Mountain Bike Pedal  | Best pedals for tricks | Nylon | 9/16 | Find out more |
| 25NINE Ronin Platform BMX Bike Pedals | Best BMX Platform Pedals | Polypropylene | 9/16 | Find out more |
| PDX D10's Flat Wide Nylon Composite Bike Pedals | Best Pedals for downhill and dirt racing | Nylon | 9/16 | Find out more |
| ODYSSEY Twisted PC 1/2 Pedal | Best budget Pedals | 27.5 inches | 9/16 and ½ inch | Find out more |
| K PEDC Aluminum Alloy 9/16″ Bike Pedal | Best Aluminum Alloy Pedals | Aluminum Alloy | 9/16 | Find out more |
Selection Criteria
You can browse through and buy many different BMX pedals, and we had to apply strict criteria to ensure that only the best pedals made our list. Some of the criteria we used included:
Different materials – BMX pedals are made from either nylon, aluminum, or steel, and we have included a mixture of these materials on our list.
Cost – While pedals aren't massively expensive, there are budget and pricey options available. We have included pedals from all ends of the pricing spectrum.
Weight – Whether you require lightweight pedals or those that are slightly heavier for added durability, you will find pedals on our list at different weights.
Flat and Clip – You will find both flat and clip models of BMX pedals to ensure that everyone's tastes are catered for.
Why replace your BMX Pedals?
Replacing your existing pedals can have a significant impact on the overall performance of your bike.
As far as BMX components go, upgrading your pedals probably isn't at the top of your list. You are more likely to think about replacing your BMX tires or other parts of your bike; however, buying better pedals will have noticeable benefits.
These benefits can include:
Better traction – pedals have different textures, which can help to improve grip and traction when riding.
Wider platform – Many upgraded pedals have a broader platform that allows you to balance better and enhance the overall power and help control the bike when doing tricks.
Enhanced aesthetics – There are a ton of pedals on the market, and some can massively improve the look of your bike.
Increased safety – If your existing pedals are loose, they can be prone to snapping off, especially if you ride on bumpy terrain. New pedals can fit more securely and offer better safety when you are on your BMX.
Things to consider before buying BMX Pedals
Let's have a look at a few things you should think about before you purchase new BMX pedals.
Grip
Buying new BMX pedals can substantially increase grip as many pedals have a textured surface. Some BMX pedals are explicitly manufactured for enhanced grip and traction, so if this is something you need (for example, performing tricks), the amount of grip is something to consider.
Also, another factor that influences the grip of your pedals is the shape, as some are better suited for enhanced grip than others..
Cost
BMX pedals can range from very inexpensive to pretty pricey, depending on the model you choose.
While pedals likely won't be the most expensive component you buy for your BMX, it is still essential to consider the cost. It is best to set a budget and stick within your price range as much as possible. This means you won't be overspending on a new set of BMX pedals as it can cause financial trouble.
Durability
The durability of the pedals you are looking to buy is vital.
BMX pedals are mainly made from three materials:
Nylon is the most common material as it offers a high level of durability and is also resistant to rust. However, the color can fade with continuous exposure to the sun, but nylon is the best choice if you also want a colorful set of pedals.
Aluminum is the best option if you want to reduce the overall weight of your BMX, as the pedals made from this material will be lighter. Steel is another material that adds a high level of durability to pedals, although it will often be heavier.
Clip Flat vs. Clip Pedals
Lastly, you should also consider the differences between flat and clip pedals.
Clip pedals don't screw into place on your BMX; instead, you pop or clip them on. The big advantage of this kind of BMX pedal is that they are straightforward to install, and you can fit them onto your bike in no time. This type of pedal isn't suited to dirt riding, tricks, or biking on rough and ready surfaces as the pedals can loosen. If you simply need new pedals for commuting and riding on smooth streets, clip pedals are a good option.
A flat pedal absorbs pressure and forces much better, and they are stronger than clip pedals. These BMX pedals are screwed onto your bike and also usually have a texture that helps with grip. If you regularly ride on rough terrain or perform tricks, a flat pedal is a much better option.
7 Best BMX Pedals
Our number one pick for upgrading your BMX pedals is the FOOKER MTB Pedals.
These pedals are made from Nylon, and if you want a large selection of colors, this is a fantastic option. There are 12 different color options available for these BMX pedals, so you can easily enhance your bike's aesthetic.
The wide platform is another advantage that offers control and grip, while these pedals would be suited to stunts and tricks. You will also find anti-skid nails which help to secure your feet.
The only downside to these pedals is that they can produce a clicking sound after sustained use. This isn't a dealbreaker and doesn't happen all the time, but it can be a bit annoying.
If you want new BMX pedals that are cost-effective, available in different colors, and offer outstanding performance, the FOOKER MTB Pedals tick every box.
Pros
High performing BMX pedals
Available in 12 colors
Ideal for stunts and tricks
Cons
They can develop a clicking noise after prolonged use.
You might want a lighter weight for your new BMX pedals and, if this is the case, go for the Imrider Mountain Bike Pedal Lightweight.
These pedals are incredibly lightweight (the pair weigh around 350g), so they won't add much weight to your BMX overall. The nylon construction of these pedals also helps to keep the weight low while adding durability and rust resistance. Although, there are some metal parts on the pedals that can be liable to rust.
These pedals are available at a low price too and provide a good level of grip. They aren't the most durable pedals you can purchase; however, if you want a remarkably lightweight model at a low cost, these pedals are ideal.
Pros
Very lightweight BMX pedals
Durable and made from nylon
Available at a low cost
Cons
These pedals aren't the most durable
The MZYRH Mountain Bike Pedal is our top choice if you regularly perform tricks on your BMX.
These pedals have textured nylon surfaces with shockproof capabilities, making them perfect for high-intensity BMX riding. This helps with grip and stability. If colors are important to you and you want to spruce up your BMX aesthetic, these pedals are available in 11 colors.
With a lightweight construction and a 4.4-inch wide platform, the pedals are perfect for BMX stunts. You will find these pedals easy to install, and they are a no-nonsense model.
Even though the pedals don't have three bearings, they are good-quality pedals ideal for performing BMX tricks.
Pros
Suitable for performing tricks and stunts
Available in 11 different colors
Lightweight with a wide platform
Cons
The pedals don't have three bearings
The 25NINE Ronin Platform BMX Bike Pedals are available in four colors, and they are also relatively lightweight as they weigh just 141g each.
With a wide platform, these pedals are ideal for comfort and control, while the raised metal traction pins further help to increase grip. Made from Polypropylene, they are pretty durable, although some users have reported that the paint has a tendency to chip off.
If you regularly ride on rigid and uneven terrain, these pedals are suitable to handle this type of environment while still retaining a high-performance level.
Also, they are available at a very reasonable cost so that they won't set you back a ton of money.
Pros
These pedals have a wide platform
Lightweight and weigh 141g each
Available at a cheap cost
Offer good grip and traction
Cons
The paint has a tendency to chip off
The PDX D10's Flat Wide Nylon Composite Bike Pedals are perfect for downhill and dirt jumping on your BMX.
Made from a nylon composite, they provide a decent level of durability and strength, so they can withstand intense BMX riding with lots of bumps and impacts. The five different color options provide a reasonable variety if you want to enhance the look of your bike, and the pins and axles are crafted from stainless steel.
They aren't the lightest pedals on our list, but they don't weigh loads either, and both pedals combined come in at around 412 grams. One downside is that these pedals have little flex; however, overall, they perform well and would suit you if you regularly dirt jump on your BMX.
Pros
Suited to dirt racing and downhill
Provides five color options
Decent durability
Cons
Made from Aluminium, so isn't the most durable
These pedals have little flex
If you are looking for a truly budget option for your BMX, the ODYSSEY Twisted PC 1/2 Pedal is an excellent choice.
This pedal is the cheapest on our list, and it is perfect if you don't have much money to spend. We should stress that just because it is a cheap set of pedals, they still provide decent performance.
These pedals have a nylon body for durability coupled with a wide surface area for comfort and grip. While the spindle is a little rough, you can't expect everything with this ODYSSEY offering. Also, the four-color choices ranging from black to hot pink provide a nice contract and improve your BMX look.
Overall a decent performer that is definitely aimed at those who don't want to spend a lot upgrading their bike.
Pros
Ideal for those on a strict budget
It still offers good performance
Made from nylon for durability
Available in four different colors
Cons
The spindle is a little rough
We have included the K PEDC Aluminum Alloy 9/16″ Bike Pedal for those of you who prefer an aluminum construction to your pedals.
These pedals are pretty durable, and the material that they are made from ensuring that the weight is kept to a minimum. This can be very important depending on the type of BMX riding you do. The anti-skid nails further add to the stability and safety of these pedals, and the three sealed bearings allow these pedals to operate smoothly.
If you don't want a set of aluminum pedals, these won't suit you at all. However, if this material is what you are looking for, we don't have much bad to say about these reliable and cost-effective pedals.
Pros
Strong and durable aluminum pedals
Come with a lifetime warranty
Anti-skid nails and sealed bearings
Cons
Not suitable if you want nylon pedals
Frequently Asked Questions
Question: Are nylon BMX pedals good?
Answer: Yes. Nylon is the most common material for pedals, and it provides durability, strength, and the possibility of many colors. Nylon is also rust-resistant.
Question: What should I look for in a BMX pedal?
Answer: Durability is the main thing to consider with a BMX pedal. Whether it is on rugged terrain or performing tricks, riding a BMX can put significant strain on your pedals, so look for models that can withstand this type of biking.
Question: Are BMX pedals easy to install?
Answer: It depends on the type. Clip pedals are popped on, and they are straightforward to install; however, flat pedals require a bit more work as they are screwed in.
Question: Are BMX pedals expensive?
Answer: Not really. Compared to many other BMX components and accessories, pedals are among the cheaper items you can buy to upgrade your bike.
Question: What BMX pedals are best for tricks?
Answer: The best pedals for freestyle and tricks are durable, have a textured surface, and have a wide platform for added control and grip.
Our Verdict: Which is the Best BMX Pedal?
The best BMX pedals you can buy right now are the FOOKER MTB Pedals.
Aside from the fact that they will massively enhance the look of your BMX as they are available in 12 colors, these pedals are great for performing tricks and stunts. They provide a high level of grip and durability while they also offer a wide platform.
If you want an excellent performing BMX pedal that isn't going to cost you a lot of money, opt for the FOOKER MTB Pedals.