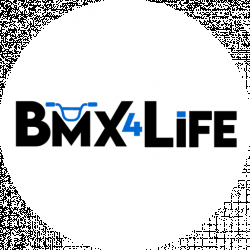 Latest posts by BMX4Life Team
(see all)
In our comprehensive Redline Proline 24 review, you'll find out all you need to know about this BMX racing bike.
Redline is a well-established name in the BMX world. They have been around since the 1970s and are very much at the forefront of BMX culture.
Their 24 inch BMX bike is a popular choice for many BMX racing enthusiasts but how good is it really? We'll find out how this BMX race bike performs, its features, and what its pros and cons are. We'll also have a look at some alternatives that are out there if you decide the Proline 24 isn't for you.
First, let's dive into the key specifications of the Redline Proline 24 BMX bike.
Key specifications of Redline Proline 24
Find the main specifications for the Redline Proline 24 below.
| | |
| --- | --- |
| Bike frame | Proprietary Alloy Formed and Butted Tubing |
| Cranks | Proline 2pc Alloy Forged Cranks, 180mm w/24mm Chromo Spindle |
| Tires | Vee Speed Booster 24×1.75 |
| Brakes | Tektro 930AL Linear |
| Seat | Race Pivotal, No padding |
| Latest price | Click here for the latest price |
Core features of Redline Proline 24
The Redline Proline 24 is just one of many great BMX bikes on the market. If you are thinking of buying this bike, read on to find out its core features.
Lightweight
BMX racing requires a lightweight bike. In comparison to other styles of BMX riding such as freestyling or dirt biking, racing is all about speed.
The Redline Proline 24 has an aluminum frame which keeps the overall weight of this bike to a pretty low level. This will allow you to pick up more speed when out on the track and you don't need to worry about the frame weighing you down.
The construction of this bike makes it perfect for BMX racing and considering that is its main purpose, we're glad to see that being as light as possible is a core feature of the Proline 24.
Vee Speed Booster Tires
Using the correct BMX tires for the type of riding you are doing is important. Not just from a performance perspective but from a safety one as well.
The Redline Proline 24 comes with Vee Speed Booster tires.
As the name suggests, these tires are tailor-made for racing and fast riding. They are a bit narrower than the tires you would find on other BMX bikes – for freestyling or dirt racing for example. They offer really good cornering stability and good rolling resistance. This means you can tackle corners and bends at high speeds while still retaining control.
They grip really well to race type surfaces even in wet and less than ideal conditions.
Racing tires for BMX generally need to have a higher PSI than other types of riding too. The Vee Speed Booster tires can run up to 110 PSI.
Durability
Having a lightweight bike and being able to pick up high speeds is all well and good, however, it needs to be durable as well.
You don't want to spend a lot of money on a BMX racing bike only to have to replace it a few months down the line. The overall contraction of this bike with its aluminum frame and most of the parts being made from aluminum too means that it is very durable.
It will be able to withstand regular BMX racing pretty well and you shouldn't have many issues with its overall longevity. This is the great thing about aluminum – not only does it ensure a lightweight frame but it also means it will last as well.
Comfort
The Redline Proline 24 comes with a Race Pivotal seat without any padding. The seat also comes with a quick-release seat clamp too.
It has a clean and sleek look and definitely contributes to the overall aesthetic of the Proline 24 – but what about the comfort?
Really with BMX racing you aren't sitting down a lot so the seat shouldn't be massively important. Is it the most comfortable seat you'll find on a BMX bike? Certainly not. However, it isn't designed to be. It is there to sit down on the short term before a race and immediately after.
We'd like it to be a bit more comfortable but its lightweight design helps bring the overall weight of the bike down and it pretty much does what it is supposed to. You can easily replace the seat if you particularly want to and this is something that people do to boost comfort.
How does the Redline Proline 24 perform?
The main function of the Redline Proline 24 is racing so that's really what we need to judge it against. Redline has a long history of creating superb bikes for a variety of different BMX disciplines so we were expecting big things with the Proline 24. Suffice to say, we weren't disappointed.
You can really see why this bike is tailor-made for BMX racing.
It is pretty lightweight which is perfect for picking up great speeds. Combined with the Vee Speed Booster tires you can get great momentum and keep up top speeds around the track. The overall control and tractions are good as well. The tires get brilliantly, especially when cornering and even on wet surfaces, they perform admirably.
There isn't a lot to dislike about the performance of the Proline 24. It is made specifically for BMX racing and it stands up to the challenge really well. We haven't used it for any other type of BMXing as its construction and features aren't particularly suited to freestyle, trail, or street riding.
Pros of Redline Proline 24
As far as BMX racing bikes go, the Redline Proline 24 is definitely up there with the best and there are a lot of pros to this model.
It is very lightweight
The lightweight nature of the Proline 24 means it is perfect for BMX racing. You will glide across the track with this bike and its aluminum construction is very much there to keep the weight low.
Tires offer great speed and control
The Vee Speed Booster tires are another big advantage of the Proline 24 from Redline. They are able to produce fast speeds while still retaining control and traction. Even in wet conditions, these tires will perform admirably.
Durability
The Redline Proline 24 is a pretty durable BMX racing bike so you will get some decent longevity out of this. It is made from aluminum and is well constructed. You shouldn't need to replace this bike anytime soon even with consistent use and it will hold up well.
It looks great
Redline is certainly known for pushing out lovely looking BMX bikes and the Proline 24 is no exception. It has a nice sleek design and if aesthetics are important to you, the Proline 24 is a great looking bike. Combine it with a nifty BMX helmet to really kit yourself properly for the track.
Cons of Redline Proline 24
Overall the Proline 24 is a fantastic bike but not everything is perfect. There are a couple of downsides to tell you.
The seat isn't comfortable
For all the time you will likely be sitting on the seat when racing this shouldn't be a massive deal. That being said, it isn't the most comfortable and it is just plastic with no padding. You can easily upgrade and fit something a bit better if you want. The seat isn't a deal-breaker but it is something to be aware of.
Is it a bit pricey
The Proline 24 isn't really designed as an entry-level bike and if this is your first BMX race bike then the cost might put you off a bit. It is a great all-around BMX racing bike and if it is going to be your first step into racing then you can't really go wrong. However, there are cheaper alternatives out there if you are on a strict budget.
Are there any alternatives?
Stolen Casino XL BMX Bike
–
One alternative to the Redline Proline 24 is the Stolen Casino XL BMX Bike.
It has ample room for tall riders which is ideal as many BMX bikes don't and can feel a bit cramped. It also comes with a highly durable frame. This bike will be able to stand up to the rigors of BMX racing pretty well.
The frame itself is made from high-tensile steel. This really adds to its durability however it does add a bit of weight to the bike. While this can help with control and better grip, there is the possibility of limiting your speed with the extra weight. It isn't terribly heavy by any means however it won't be as light as some other frames.
The Stolen Casino XL is a bike built for BMX racing. It comes in a bit cheaper than the Proline 24 and is a well-built bike that is certainly worth consideration.
GT Air BMX Bike
If you are really after an entry-level and very affordable BMX bike, the GT Air BMX Bike will be right up your street.
It is another bike that comes with high-tensile steel so it will carry a bit of extra weight compared to some other frames like the Proline 24. Although, you will get good durability from the GT Air.
The bike is made from high-quality parts and even though it is set in the affordability category it definitely doesn't perform badly at all. For beginners, this is an ideal first BMX bike for racing. It is well constructed, has good geometry, and isn't going to cost the earth either.
For just starting off before you move onto something a bit more advanced and costly, consider the GT Air BMX.
FAQs
Question: Is aluminum a good material for a BMX frame?
Answer: Yes. Aluminum provides a lightweight design that doesn't mean that you will need to replace your bike a few months down the line. It offers durability and strength while ensuring you can pick up good speeds too.
Question: Can I use this bike for freestyle or dirt biking?
Answer: No. It is designed specifically as a BMX racing bike and its construction is a testament to that. It won't really hold up well for freestyle BMX so you should look elsewhere if that is the type of biking you do.
Question: Is it hard to assemble the Redline Proline 24?
Answer: Not really. There isn't a whole lot of assembly required with the Redline Proline 24. Assembly is pretty straightforward and you shouldn't come into any problems.
Question: Can I replace parts of the Redline Proline 24?
Answer: Yes. If you want to upgrade certain components of the Proline 24 you can certainly do this. It is a very good bike as it is however many people do put on a new seat. The stock seat is a bit uncomfortable but it is easy to upgrade to something better.
Question: Will I get good speed with the Redline Proline 24?
Answer: You should do. As we mentioned above, the Redline Proline 24 is made from aluminum which gives it a very lightweight design. The tires on this bike are also designed for speed and BMX racing while still ensuring good cornering control and traction. You will be able to get good speeds and momentum with this bike.
Question: Is Redline a good company?
Answer: Yes. Redline has been one of the staple names in BMX for a long time. They have been around since 1974 and have been a big part in developing BMX culture. While much of their emphasis is on race and freestyle bikes, they cater to all BMX disciplines.
Final thoughts – the Redline Proline 24 is an ideal BMX race bike that has very few flaws
It is hard to find a lot wrong with the Redline Proline 24. If BMX racing is your thing, you really can't go wrong with the Proline 24 in all honesty. Just to nitpick at a few flaws that it has.
The uncomfortable seat is one. Even though it isn't that big a deal and you can easily change to a more comfortable model, it is something that sets this bike back a bit. Apart from that and the kind of high price if you are on a strict budget or just taking your first steps into BMX racing, we really like everything else about the Proline 24.
Its aluminum frame is there for both durability and to keep the overall weight of the bike down. It will increase the longevity of the bike while ensuring that you can generate good speed. The tires also help with this as they are specifically designed for racing. They can run up to a 110 PSI if you want while they have good grip and traction even on wet surfaces.
So, should you go out and buy the Redline Proline 24?
We say – yes! It is a great BMX race bike. It pretty much has everything you need for hitting the track, getting good speeds, being in control, and ensuring your bike lasts.
As we said, there isn't much to dislike about the Proline 24 and everything to love about it.